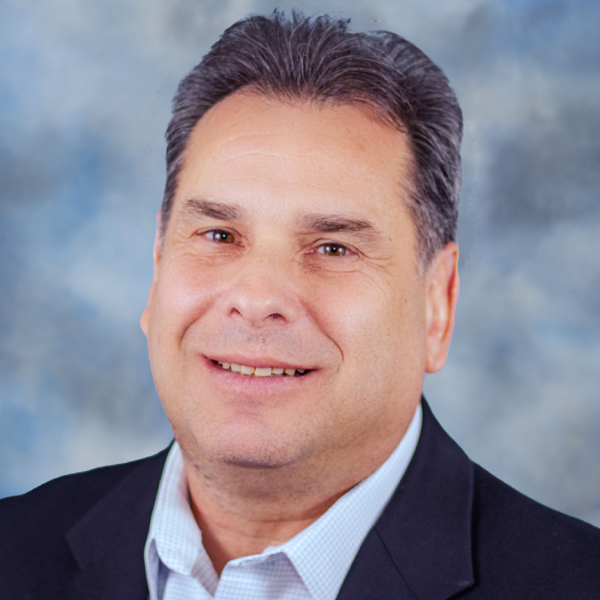 Brad Kuvin
The Morality of Manufacturing
November 1, 2009
Gretchen Zierick and her father Russell pause during a walk through the firm's plating department. "I've worked in nearly every area of the business at one time or another," says Gretchen, "including spending several months running the plating department." The department is critical to Zierick Manufacturing's competitiveness: "We're known for producing plated electrical components with excellent solderability," says Gretchen.
The passion and dedication that Gretchen Zierick, the Precision Metalforming Association's (PMA) chair-elect for 2010, brings to her family-owned metalforming company now will be felt by the entire industry, as she takes the reins of PMA. She's eager to share her ideas, wisdom and enthusiasm from the association's seat at the head of the PMA table. Gretchen has served as president of electronics-industry supplier Zierick Manufacturing, Mount Kisco, NY, for the last 10 years; the company has been a PMA member since 1985.
"I love the metalforming processes work and making sure that they work correctly, knowing that we're doing things correctly," Zierick says when asked from where she gets her passion and drive that has kept her company at the front of the pack of electronics-components suppliers. "At Zierick Manufacturing, we have an R & D team that works to understand customer and industry problems and then develops unique patented products." For the next year, Zierick will work o instill that philosophy at PMA, one of new ideas and new opportunities. All the while, she urges all who work in our industry to unite in support of her theme for the year: The Morality of Manufacturing.
Manufacturers March to a Moral Code
"There is a moral code among manufacturers in this country," Zierick says, beginning to explain the thoughts behind her carefully crafted theme, "based on the honesty and integrity that permeates our industry. In manufacturing we can't get a with the lying, stealing and cheating we've seen in the banking, financial services and other industries. Manufacturers take raw materials and convert them into finished products that customers can test, see and feel, to prove their worth. To develop these products, you need an idea and an understanding of how to make it work. This to me is a moral endeavor, yet our industry often gets treated like the 'bad guy' by the media and by our politicians."
What is it that manufacturing companies do right? Zierick reminds us that those who work in manufacturing use their minds to create products from ideas, all in the context of earning enough profit to support their employees and drive the economy.
"America once stood for entrepreneurship, capitalism and freedom, but now we're being punished for doing what's right," Zierick says. "Manufacturing is the most moral to make a living yet we're treated as the greedy bad guy. Let's eliminate some of the regulations and mandates that tie our hands and allow the free markets to decide the value of our services and products. We earn our wages and profits, while it seems that so many out there do not."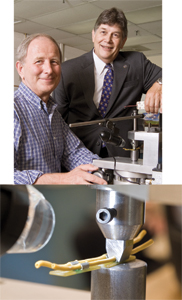 Design and development of patentable electronics components is the lifeblood of the company says Zierick, and that responsibility falls squarely on the shoulders of Janos Legrady (seated), vice president of research and development, and Frank Lynster, vice president of engineering. Its latest development, shown here, is a surface-mount insulation-piercing crimp terminal, and the Zierick press and tooling that quickly terminates a wire to surface-mount printed-circuit boards. The product earned Zierick the 2009 Higgins-Caditz Design Award from PMA.
Strengthening the Foothold in Washington, D.C.
Zierick's theme dovetails well to PMA's long-term commitment to lobbying our nation's politicians, to make them understand the impact that their legislation has on our industry and its ability to compete in the global market. Manufacturing creates wealth and jobs, and PMA supports legislators that understand these principles as proven by their support of pro-manufacturing policies.
As part of her theme, Zierick urges all that work in manufacturing to follow PMA's lead and support those politicians that support policies that encourage the growth of America's small- to medium-sized manufacturing companies, by eliminating barriers to profitability.
"I want the leaders in our industry to think as individuals about their own philosophies and values and to start evaluating the system of beliefs of our politicians," Zierick stresses. "Too many people react emotionally to the issues, rather than practically and morally, which can lead to a contradiction in beliefs. And, I see too many people tripping over these contradictions, which is why our system is falling apart. Politicians often act irrationally, but as an industry we can present rational arguments that give us a better chance of enlightening them to the importance of manufacturing to America's future."