"Conversations inevitably turn toward the fact that our customers increasingly are multinational, with assembly plants all over the world. So we as suppliers must be multinational," adds Thompson.
Answers to All of Your Questions, In One Place at One Time


Bruce Walker, president of Walker Corp., a metalforming company in Ontario, CA, is serving a three-year term as ICOSPA president and is chairman of the 2008 ICOSPA Congress Leadership Subcommittee. "The type of information you'll be able to gain at the Congress," says Walker, "is information you can't get anywhere else. …The knowledge and confidence gained from developing these personal relationships are the keys to efficiently looking at becoming a global supplier."
Learning how to navigate the global playing field can be time-consuming and expensive, requiring numerous overseas flights, tours and meetings in order to hook up with the right people in the right places. Having all of the resources you need in one place at one time at the Congress streamlines the process immensely, says Thompson. And, metalformers making the right contacts at the Congress will have immediate opportunities to expand overseas.
Congress project-committee chair Jim Zawacki, president of GR Spring & Stamping, Grand Rapids, MI, hammers home that exact point. "Networking with our counterparts from other parts of the world has paid numerous specific dividends for my company," he says. "For example, we've formed a strategic alliance in a metalforming company overseas that now handles more than $5 million worth of business for us. And, thanks to networking with my peers from all over the world, we've learned about different tooling suppliers all around Asia, and now have trusted sources in Korea, Taiwan and China. We know where to source deep-draw tools, transfer tools and progressive-stamping dies.
"Lastly, thanks to the relationships I've made through meetings with foreign counterparts," continues Zawacki, "I've recently identified an opportunity to set up an office in Japan that will keep me tuned in to my customers' activities there. Now that we've become a trusted supplier to transplant OEMs here in the United States, the next step is to get closer to the design and procurement process, and those decisions are still made in Asia.
"Progressive companies want to learn about and be involved in what's going all over the world," continues Zawacki. "Yes, the fear of the unknown is there, but you have to start somewhere. The ICOSPA Congress is clearly the best place to get started, and also to develop ongoing relationships with foreign counterparts."
Developing Continuing Relationships, Not One-Shot Deals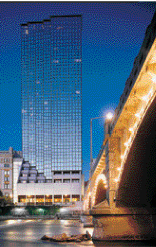 The 2008 ICOSPA Congress will be held at the Am Grand Plaza, which combines the graceful heritage of the original hotel, the Pantlind, which opened in 1913, and the modern amenities of its impressive glass tower.
Walker speaks at length about the relationships he has with fellow metalformers from around the world that began through his involvement with ICOSPA and similar activities, including PMA-sponsored trade missions. His three-year term as ICOSPA president began in 2007, when Congress planning kicked into high gear, and ends next year following a review of the 2008 Congress. He hands the reigns in 2009 to a German counterpart.
"Through my ICOSPA contacts, I've formed great and lasting relationships with Japanese metalformers who have allowed me to visit and benchmark their plants in Japan," says Walker, reflecting on past ICOSPA Congress activities. "Through this benchmarking, we've picked up valuable advice on implementation of quick-die-change practices and overall management of lean production systems. Japanese stampers are very advanced with lean manufacturing, and we need to continue to implement lean practices at Walker Corp.
"The information attendees will gain at the Congress," continues Walker, "is information you can't get anywhere else. Yes, you can attend conferences and try, for example, to speak to individuals about how to set up a plant in Mexico or China. But it's very difficult to find and speak to people one on one from different parts of the world that are interested in discussing similar issues. ICOSPA offers a very low-cost for North American metalformers to meet people and learn what's going on.
"The knowledge and confidence gained from developing these personal relationships," adds Walker, "are the keys to efficiently looking at becoming a global supplier."
Being Global Secures your U.S. Operations
"Very few of our customers are located only in North America," concludes Thompson, "so it's critical that we are properly positioned in our customers' global supply chain. Ultimately, that leads to more work and more security for employees working in our U.S. facilities.
"If you can stay home, stay local and stay profitable," Thompson continues, "that's great. But doing that in a global marketplace subjects your company to huge unnecessary risks." MF
Technologies: Management