That type of improvement in inventory accountability allows E&E to better gauge and utilize manufacturing capacity, and to schedule its plants more efficiently.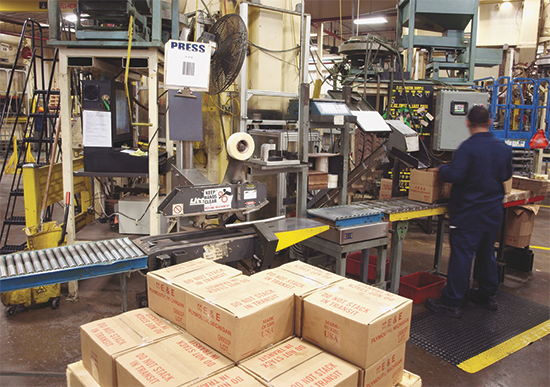 E&E experienced immediate and significant improvement in lot traceability and inventory tracking and accuracy by upgrading its ERP system, as witnessed at this cage-nut press line tasked with fastener stamping and assembly. The operator has a lot to do here, including managing the packaging operation and ensuring quantities are correct. Using the Plex terminal (far left) to log production data, he reports when each box has been packed. Once he has a full pallet, the system creates a master pallet label. The serial number from every box on the pallet then becomes associated with the master pallet's serial number.
"Now we're able to forecast capacity into the future—we couldn't do that before," Swanson says. "And, the ability to precisely trace lots backward and forward improves the precision with which we can target our quarantines. Before implementing Plex Online, a quality spill might have taken two or three days to clean up. Now we can quarantine questionable parts in a matter of minutes."
Cost of Poor Quality Cut Nearly in Half
The overall measurable where improved lot traceability becomes most notable is cost of poor quality. From 2011 to 2012, E&E reduced its cost of poor quality by a whopping 42 percent. IT director Liu explains:
"We've been able to reduce our scrap rate because our operators on the plant floor red-flag quality issues instantaneously, using Plex-connected operator terminals. If, for example, the operator has a questionable part-quality measurement on the part-specific checksheets, the system automatically places the workstation in a hold status. He cannot return his workstation to production mode until a supervisor or the quality department makes a disposition."
This process, managed by Plex Online, drives accountability on the shop floor and creates real-time visibility that allows E&E's work teams to attack quality issues before they fester and become major sores. And, it is this new level of accountability and visibility throughout the company that helped optimize the Plex implementation process. Liu, noting that the company chose to roll out its new ERP system in a "big bang" rather than one module at a time, says that "the E&E Plex team had to sell the new system and the required process re-engineering to the employees. Typically, no one embraces this type of change. But with top-down management support and process ownership on the shop floor, we saw people embracing it quickly."
E&E operators, adds Swanson, have taken ownership of the ERP system, viewing it as theirs and E&E's and not a system that belongs to the IT or accounting departments. This real sense of ownership not only quickened implementation but also "has improved communication throughout the company, reinforced the need for disciplined business processes and helped managers at each level use data to make informed decisions," says Swanson.
Adds Liu: "The result has been improved throughput and efficiency and reduced costs. That's made us a more profitable company."
Work Flow—Process Management on Steroids
Functional integration within Plex of business intelligence, quality management, supply-chain management (SCM), customer-relationship management (CRM) and other capabilities also has contributed mightily to E&E's overall satisfaction with its new ERP solution. "Our annual cost to maintain the incumbent system exceeded that for the cloud-based solution by $50,000," Swanson says, "due largely to ongoing software maintenance and required customization by an outside developer." Swanson also notes all of the add-on solutions in addition to its legacy ERP system that were previously required to manage functions such as human-relations records, time and attendance, SCM and CRM.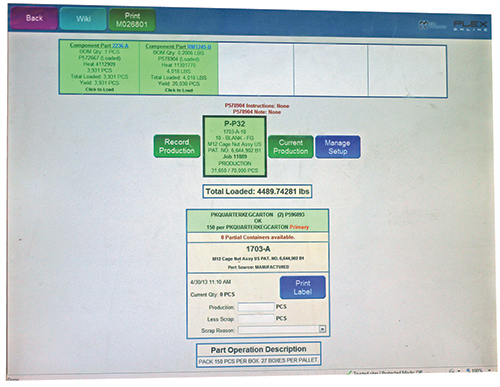 This Plex production-reporting screen lets the operator see how many parts have been placed in a container, how many parts can be stamped from the remaining coil of material and the number of fasteners remaining in the bowl feeders. He also can use data from the system to look ahead and prepare for when the coil will run out, and the location within the plant of additional coils.
Last but not least, Swanson and Liu credit the work-flow function within Plex with making E&E a more efficient and productive company. "We use this function to control many of our internal processes," Swanson says, "such as adding new customers or issuing purchase orders. Plex gives structure to these processes, controlling the sequence of requests through our system."
To initiate a work flow for purchasing, for example, an employee enters the requisition into Plex. Then the requisition is sent electronically to the next person or group of people responsible for the process, such as a purchasing agent.
"Using the work flow function, we can determine the number of steps in a process and assign those steps to people along the ," Liu says. "To continue the purchase-requisition example, after the purchasing agent cleans up and formalizes the initial requisition, the PO moves to accounting for account coding, to the account owner for budget approval, and so on up the line. This all occurs automatically, and each step in the work flow has its own deadline for completion. This ensures the process moves quickly and efficiently through the system, rather than stalling in someone's in-box for days or weeks. Any step that fails to occur on time triggers automatic e-mail alerts."
The impact of automating work flow on E&E's business has been significant. Purchase orders, for example, that used to take 10 days or more to complete now are finalized in 2 days or less, on average.
"We also plan to use the work-flow functionality to improve the APQP process. And, Plex includes an engineering-change rollout (ECR) system that uses work flow," says Swanson. "Using e-mail notifications throughout the ECR process will enhance internal communications, and we'll soon expand the Plex implementation to include customer and supplier PPAPs.
"This Phase II of the implementation," continues Swanson, "also will include supplier portals into the system, with the ability to create corrective actions. Using the customer PPAP module in Plex Online will help us eliminate repetitive actions in the process. Rather than creating control plans and FMEAs (failure mode and effect analyses) outside of the ERP system and entering them into the system for online checks, these documents will reside within the system from the beginning, centralized for everyone to view."
Plex on the Plant Floor
Walking the plant, we spied Plex terminals scattered throughout, where machine operators can check the system and immediately learn of all of the jobs scheduled for the day. They also can see how much raw material and incoming subcomponents are required, and what's available and where it's stored. If required, the operators then can call material handlers to ensure they have the materials needed to complete their work.
"In the past, operators had no access to the real-time production schedules, only the paper-based routers received at the beginning of each shift," says Swanson. "But schedules can change hourly, or more frequently in some cases. If they needed material for a new job, material handlers would scramble to find it and move it to the required work area. That often led to expedited shipping and made the customer-service rep's (CSR) job more difficult."
The enhanced material- and inventory-tracking capabilities and integrated labor reporting of Plex Online have, once again, made a significant and notable impact on the business. While E&E has grown by approximately 20 percent in the last few years, it has been able to consolidate positions and redeploy employees, reducing indirect labor costs.
For their part, material handlers use scanners mounted to their hi-los for access into Plex. This allows them to process inventory moves in real time, simply by scanning the serial numbers of any containers moved. They also can merge and split containers at the shipping docks when needed, and immediately update inventory records within Plex.
Emphasis on On-Time Changeovers
In production, E&E's new ERP system has triggered an increase in manufacturing capacity, by helping to reduce job and tool changeover times. As a result, job start and end times have become more predictable.
"We set the ERP system up so that the standard changeover time for a given tool is finite," says Swanson. "And, we have established a set of standard downtime reasons—setup, machine or tool maintenance, waiting for materials, etc. In production, then, if changeover time exceeds the standard, Plex automatically switches the job from 'setup' to 'excess setup,' and the e-mails start to fly. Our operators have become more motivated to report setup issues, and the supervisors react more quickly and aggressively to ensure we get the right people addressing the issues as quickly as possible."
MF
See also: Plex, A Rockwell Automation Company
Technologies: Management, Software