Hands-On Leadership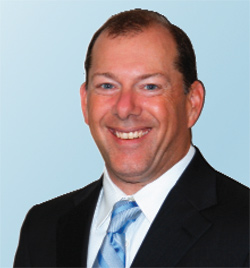 P.J. Thompson was raised in Holland, MI, where his father Patrick Thompson started Trans-Matic Mfg. Co. back in 1968. P.J. earned his Bachelor's Degree in Economics from nearby Albion College (Albion, MI), and launched his career as an internal cost accountant for a manufacturing company in Grand Rapids, MI. Next, he earned his Master's Degree in Business Administration from The University of Notre Dame, and then went to work for the Price Waterhouse manufacturing-systems division.
"I travelled all over the United States and the world back in the early '90s," Thompson recalls, "installing what now are called ERP software systems. I specialized in cost accounting, inventory control and integrating manufacturing operations with a company's financial systems. I learned a lot about managing manufacturing companies during my 7 years with Price Waterhouse (during which time Thompson became licensed as a certified public accountant). In 1997 my father invited me to join the company, and the rest is history."
Thompson initially took the title of vice president for his father's company, yet worked in a variety of areas to learn the company's operations from numerous perspectives. "I worked the quoting desk to run estimates," he recalls, "where I really gained an understanding of the types of parts we specialize in, how the eyelet tooling works and the raw materials we process. I also worked in quality, operations and sales. In 2000 I took over management of the company's executive team and then was named president in 2002.
"I watched my father and his team place Trans-Matic in closer proximity to our customers and prospects," Thompson continues. "This underlined our foray into China." Trans-Matic has operated its plant in China since 2005, and also runs a 50,000-sq.-ft. facility in Mesa, AZ, to serve customers locally.
"As president, I feel my role is stay as close to the customers as possible, to monitor our quality—of product and service," says Thompson. "I want to hear directly from our customers about how we're doing and where we can improve. And most of what I hear relates directly to how our mid-level managers are performing. Our mid-level managers directly drive our profitability, and I'm committed to investing in their development. As such, I want PMA to get involved with helping our industry train and develop its mid-level management talent."
While the executive team creates the plan, it's the mid-level managers that execute the plan.
"They (Trans-Matic's mid-level managers) touch our products and they touch our customers," Thompson says. "They run our processes, yet also are tasked with making critical decisions, oftentimes management-level decisions involving critical success factors such as capital expenditures. Simply—we depend on these people to make smart business-wise decisions within their areas, including investments that must generate timely and definitive returns.
"Our customers continually challenge us to do things better and differently," Thompson continues. "In order for mid-level managers to lead the growth and evolution of Trans-Matic—and any similar manufacturing company—they require grounding in business-management fundamentals. This, I believe, will determine the success or failure of businesses as we move forward. So, as I look forward to serving as PMA Chairman, I will work with the association to expand its educational offerings, to be able to offer this type of training to its member companies and to the entire industry."
Most small- to midsized companies are stocked with highly skilled people —people that executives such as Thompson spend years training and developing. They are not easily replaced, and increasingly these people will be tasked with making critical decisions affecting the future of companies like Trans-Matic.
"Our industry's mid-level managers have the horsepower," says Thompson, "but in many cases they lack the fully developed skill sets required to plan and set objectives, delegate responsibilities, manage their time, negotiate and make nonroutine business decisions. PMA needs to develop training resources to address these industry needs."
What better for Thompson to build on the theme of 2011 PMA Chairman Bob Clay, who pushed for PMA to work toward being an "essential partner" to the metalforming industry.
On Big Bets Ride the Future
How have Trans-Matic's mid-level managers contributed to the successful growth and evolution of the company? Thompson quickly points to the firm's recent and significant foray into the lithium-ion battery market—one of the previously mentioned bets Thompson is placing to allow the company to continue to grow and evolve well into the future.
Under the guidance of manufacturing-engineering manager Jeff Brower, a new laser-welding cell on the Trans-Matic production floor welds terminals to the battery lids. The assemblies, along with precision deep-drawn aluminum cans, then ship to a Johnson Controls battery plant for final assembly.
Trans-Matic's $10 million laser-welding cell, secured on the back of a $5 million grant from the U.S. Department of Energy, exemplifies Thompson's optimistic vision for his company and the industry. "I wouldn't place these types of bets if I didn't believe in the opportunities for metalformers as we move forward," he says.
Another bet Thompson's placed is a very recent investment in a MultiServoPress from H&T Produktions Technologie. The press combines the speed of a mechanical press with the flexibility of a hydraulic press. The servomotor press, interacting with planetary roller-thread spindles, makes press force available in any stroke position and at any speed—maximum press force is ensured right through to zero speed, say company officials. The press is designed so that sensors recognize the position of the ram as a control variable during operations. Depending on the load—even an eccentric load—the ram als is positioned according to the set point, compensating for any skews present in the system. As ram speed is controllable, forming operations can be carried out with modified ram movement and reduced tool wear.
"We envision owning three or four of these presses in another 15 to 20 years," says Thompson, als with an eye toward the future. "This technology is a game-changer. One of these presses, we believe, will be able to do the work of four or five conventional eyelet presses, with incredible flexibility and accuracy."
PMA All the
Amongst numerous benefits Thompson points to emanating from his personal involvement in PMA (and the involvement of several company executives), first and foremost is exposure to the global metalforming market, via PMA's participation in The International Council of Sheet Metal Presswork Associations (ICOSPA). He's committed to participating globally, noting that "the global pond is huge and there are significant opportunities for metalformers to compete around the world. However, you need more than just a cursory understanding of the global metalforming industry—what's needed is a working knowledge of what's happening in our industry in other countries around the world."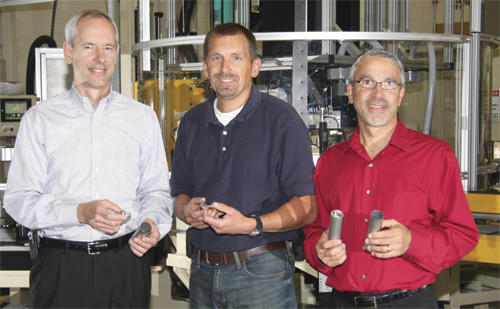 One of P.J. Thompson's "bets" placed to fortify Trans-Matic for the future can be seen in the background—a laser-welding cell used to manufacture lids for lithium-ion batteries. Shown holding various battery components, including precision deep-drawn aluminum cans (l-r): vice president of advanced product development Bob Stander, automation manager Jeff Brower, and director of advanced product engineering Ron Dalessandro.
For Thompson, the best to acquire that knowledge has been attending the ICOSPA Congress, held every three years in one of the ICOSPA-member countries. In fact, Thompson recently attended the 2011 ICOSPA Congress, September 18-21 in Aachen, Germany.
"My involvement in ICOSPA began in 2005 when I attended the Congress in Japan, and really escalated in 2007 as PMA prepared to host the 2008 ICOSPA Congress in Grand Rapids," says Thompson. As an ICOSPA 2008 subcommittee member, Thompson helped arrange the event's plant tours and speakers, and lined up event sponsors. "I made a lot of great contacts," he says, "and was able to continue to develop those relationships in Aachen. I view this as critical to continuing to position Trans-Matic globally. We have a bigger pond in which to fish, and we're more stable as a company because of it."
Back in 2007, when deeply involved in planning the ICOSPA 2008 events, Thompson spoke with MetalForming:
"As Congress attendees share ideas and discuss mutual concerns about our industry, conversations focus on critical issues we all share, such as the global supply chain for steel, and tooling. Networking opportunities also allow metalformers to benchmark each other in areas such as press technology and tooling concepts. Conversations inevitably turn toward the fact that our customers are multinational, with assembly plants all over the world. So we as suppliers must be multinational."
There's More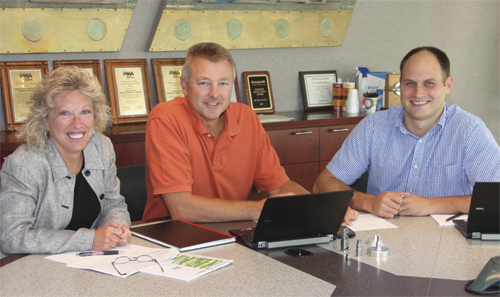 A typical marketing and sales meeting at Trans-Matic often includes production-control manager Mary Wiley. Also shown are account mangers Jeff Grass (middle) and Adam Briggs.
In addition to gaining a global perspective through PMA involvement, which has proven critical to Trans-Matic's growth and prosperity, Thompson notes several additional benefits of association membership and participation. Locally, he has served terms as director of the PMA West Michigan district, and notes that the CEO roundtables arranged by the district have als proven beneficial.
"There's so much to be learned (and applied) by networking with your peers," Thompson says. Another focus has been getting the industry's concerns and needs in front of local and national legislators. "Through the PMA district," Thompson shares, "we've been able to host members of congress in our plants. And, on a national level, I've attended several PMA-sponsored lobbying events in Washington, D.C."
Noting that PMA membership is for an entire company, not just the individual, Thompson inspires others at Trans-Matic to take advantage of the networking and educational opportunities afforded by the association. For example, he notes that the company has benefitted greatly by actively participating in the PMA Human Resources roundtables and listserve; company CFO Randy Utting's participation in PMA's executive roundtables; and vice president of sales and marketing Mark Southwell's participation in PMA's marketing and sales conferences.
"In particular, Randy Utting uses the PMA benchmarking reports to help our management team set some specific operational goals," says Thompson. "Recently, we've focused on the benchmark of setup time, and have embarked on an aggressive campaign to improve production efficiency by reducing our setup times, as well as increase our run rates where we can."
Thompson views PMA membership as an investment—in time and money—and insists there be a return on that investment. "And there is definitely an obvious ROI," he says. "I recognize three clear contributors to that ROI: networking and benchmarking; education and training; and advocacy. Trans-Matic has benefitted hugely in all three of these areas, and I expect will continue to do so for a long time to come.
"I learned the industry ins and outs from PMA and its members," Thompson adds. "My peers have taught me how to compete, day in and day out, to declare every day as a win or lose opportunity, and to focus on what allows us to win. I belong to PMA because I want my company to be competitive. Period." MF
Industry-Related Terms:
Case
,
CNC
,
Core
,
Form
,
Forming
,
Grinding
,
Hydraulic Press
,
Point
,
Ram
,
Run
,
Stroke
,
Transfer
View Glossary of Metalforming Terms
Technologies: Management, Stamping Presses, Training