Awards of Excellence
January 1, 2012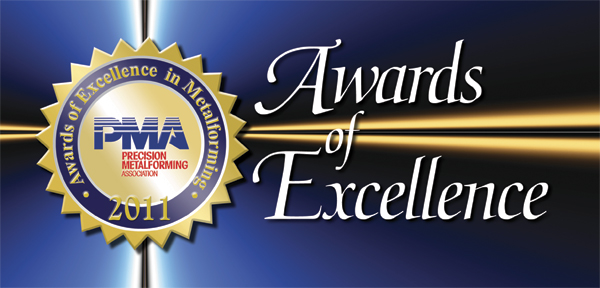 PMA honored the following companies with a special plaque, commemorative flag and $1500 cash prize on November 13, 2011, during the PMA Fall Leadership Conference and Annual Meeting in Chicago, IL. Here we describe this year's winning entries, and congratulate these companies that have dedicated themselves to continuous improvement.
Excellence in Design
Eclipse Manufacturing Co.
Eclipse Manufacturing Co., Sheboygan, WI, received the 2011 Higgins-Caditz Design Award for designing a thermostat assembly for a lawnmower engine, featuring a rolled stainless-steel shaft produced in a hydraulic progressive press using the multistrip process. The original design for the thermostat assembly comprised three stamped parts—housing, lever and cap —plus a purchased bimetallic spring and solid brass shaft.

Eclipse developed the original stamping and assembly process in a single hydraulic progressive press, simultaneously feeding two coils from the lead end of the press and one coil from the back of the press to produce the three stampings, and then in-press assembling the solid brass shaft and the bimetallic spring. Cycle time: 9 sec., with an annual production of 1.5 million assemblies.
In 2008, Eclipse developed a value-engineered, value-added design improvement to reduce assembly cost, by adding a rolled brass shaft stamped in the multistrip process as a fourth strip. The process enhancement reduced cost to the customer by 10 percent, and shaved a full second from the cycle time.
2011 Award Winners

Higgins-Caditz Design Award
Eclipse Manufacturing Co.
Sheboygan, WI
Link Systems Process Control Award
Anchor Manufacturing Group
Cleveland, OH
Pitcher Insurance Agency Safety Award
Anchor Manufacturing Group
Cleveland, OH
Ulbrich Award for Competitive Excellence in Product Development
Sulzer Friction Systems
Dayton, OH
Waukesha Metal Products Excellence in Quality Award
Pridgeon & Clay, Inc.
Grand Rapids, MI
Zierick Manufacturing Corporation Productivity Award
Waukesha Metal Products
Sussex, WI
Clips & Clamps Industries Educational Institution Award
Southwestern Illinois College
Granite City, IL
In 2010, the customer's requirements changed, as lawnmower operating-temperature range increased by 200 deg. At this new operating condition, the rolled brass shaft failed during system-development work. Eclipse engineers, having assumed design responsibility for the project, sought a new shaft material for the thermostat assembly to meet the new requirements, yet remain cost-competitive and manufacturable using the multistrip process.
In May 2011, Eclipse introduced a new assembly using a rolled stainless-steel shaft. The assembly matches the value-added cost reduction and cycle time of the previous design, and meets the increased operating temperatures of the engine. Introduction of the stainless-steel shaft required design modifications to the housing and lever. The new design is in full production at 25,000 assemblies/week.
The PMA Excellence in Design Award was created by the Worcester Pressed Steel Co., Worcester, MA, and is sponsored by The Quarterly Club.