2019 Women of Excellence in Metal Forming & Fabricating
November 1, 2019

WiM Works to Encourage, Engage

The Women in Manufacturing Association (WiM), with more than 3000 members, is a national association dedicated to supporting, promoting and inspiring women who have chosen a career in the manufacturing industry. The group encourages the engagement of women who want to share perspectives, gain cutting-edge manufacturing information, improve leadership and communication skills, participate in sponsoring programs, and network with peers. WiM encompasses manufacturers of all types and welcomes individuals from every job function—from production to the C-suite—and is inclusive to men. Members benefit from exclusive access to regional and national programming, networking opportunities, bimonthly professional-development webinars, a customized employment tool called WiMWorks, the bimonthly IMPACT e-newsletter, and a robust searchable directory.

For more, visit www.womeninmanufacturing.org.


MetalForming magazine is proud to recognize our 2019 Women of Excellence in Metal Forming and Fabricating. MetalForming editors and our program partners, Women in Manufacturing (WiM), present here 44 Winners and 14 Honorable Mention recipients, each demonstrating on-the-job excellence and a commitment to manufacturing.

The Women of Excellence in Metal Forming and Fabricating program exists to recognize the vital role that women play in our industries, and to inspire the next generation to reap the rewards of a manufacturing career. The 2019 class, the largest in the four years that MetalForming has presented these awards, features boardroom to shop-floor honorees that, no doubt, serve as inspirations.

"MetalForming proudly shines the spotlight on these industry leaders—women who excel and contribute greatly to the success of their metal forming and fabricating companies, and also inspire other women to choose a manufacturing career path," says Brad Kuvin, MetalForming publisher/editorial director. "The commitment and skills exhibited by each of these honorees is exactly what our industry needs in order to remain globally competitive for decades to come."

MetalForming's editorial staff and the staff of WiM recognized these women for their longevity and accomplishments in the industry, and a commitment to others in their careers and in their communities. We thank all of the nominees and those who nominated them.

Efforts to increase manufacturing opportunities for women while recognizing their skills is an important function of MetalForming's parent organization, the Precision Metalforming Association, and WiM, an organization that grew out of PMA's commitment to these efforts.

"MetalForming's Women of Excellence winners are examples of talent and perseverance," says Allison Grealis, WiM president and founder, and vice president of Association Services for PMA. "I can't help but be encouraged by their stories and accomplishments. I hope that these women encourage other young women, and men, to pursue careers in this industry."


We at MetalForming invite you to join us in congratulating our 2019 Women of Excellence honorees. Read on as we identify these honorees, whose quotes are meant to convey appreciation for their manufacturing careers, and inspire others to follow the manufacturing path.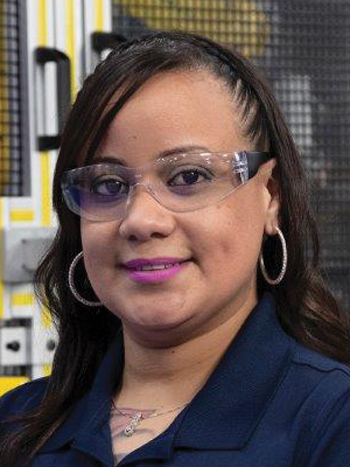 Giselle Benitez
Production Lead, Okay Industries Inc., New Britain, CT
From the beginning, 15 years ago as an entry-level operator in Okay Industries' finishing and assembly area, Giselle has set the bar high for herself, arriving each day with a can-do attitude and a drive to learn more and do more than her job requires. Giselle looked at each machine or production assignment as an opportunity for growth. Taking great accountability not only for her personal work but for the work of the entire team, she naturally began leading by example, motivating others when they needed it, and empowering others by sharing her knowledge. Giselle gained trust by being willing to help others succeed and improving results by building confidence and loyalty of those around her. In this way, Giselle became a production lead before officially being put into that role. Currently, Giselle helps lead a finishing and assembly team that manufactures millions of complex life-saving medical- and surgical-device components and subassemblies for global medical OEMs.
Through her decade-and-a-half at Okay Industries, Giselle never took her eye off her goal, taking every opportunity to learn on the job and making herself a valuable employee. Through all of this, she has raised a family and now mentors for the role of production supervisor.
"With knowledge, comes confidence―Giselle uses her confidence and drive for personal and operational excellence to lead by example," her nominator writes. "She utilizes her ability to speak fluent Spanish to effectively communicate goals and expectations, and patiently teach her team."
Giselle has been recognized on numerous occasions as an Employee of the Month, and received the 2018 Employee of the Year award for exemplary performance, teamwork, leadership and commitment to delivering superior results. Beyond job duties, Giselle takes the lead in celebrating employee milestones, planning holiday celebrations and rallying support for various company-driven community events such as walkathons, blood drives, United Way campaigns, and food and clothing collections.
"The best leaders come up through the trenches with a drive and thirst for knowledge and delivering excellence, and the best leaders help their peers shine and celebrate their successes," offers the nominator. "Giselle embodies all the qualities of a true leader. She started at Okay Industries with the courage to step outside of her comfort zone and exercise flexibility and willingness to learn and do more. Her humbleness and self-made success, and genuine unselfishness have earned her the trust and respect of her peers, who in turn work to help her positively impact Okay, its employees, its customers and the broader community. Giselle is a woman on fire, and most deserving of this recognition."