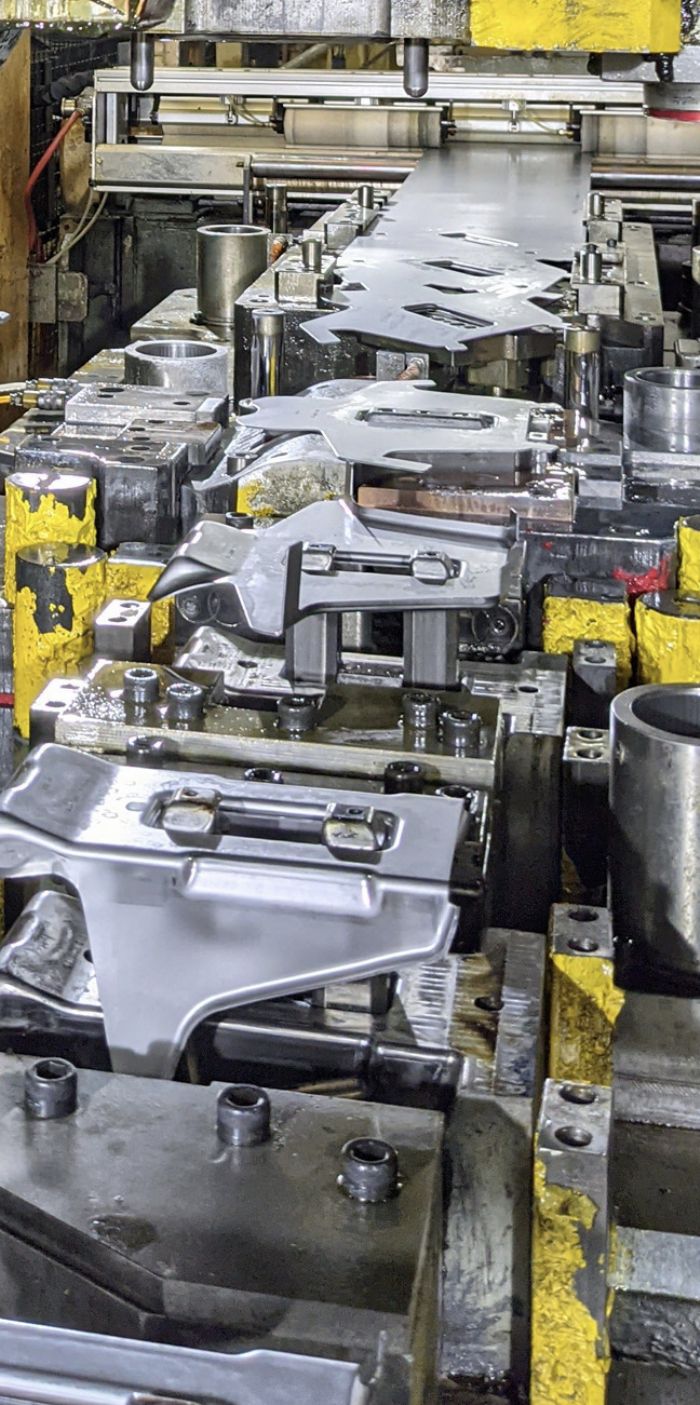 "We're working with nearly every major automotive OEM," adds Zeni, "through our Tier One customers, providing parts for seating, window regulators, hood and trunk assemblies, and body-in-white."
"Window regulators comprise about 10 percent of all of the work coming out of this facility," says George's brother and general manager Rob Zeni. "Seating components comprise another 15 percent. And yes, we're taking on some dual-phase steel stamping as well."
Roll, Don't Spray
Until recently, all of Clover Tool's stamping operations employed spray systems to apply lubricant, "and we sprayed everything―literally, the lubricant went everywhere," shares Rob Zeni. "As we watched our lube costs continue to escalate over time, including costs related to disposing of spent lube, we decided early in 2018 to take action. We simply no longer could tolerate the added costs, as well as the hazards and added cleaning requirements related to excess lube on our machines, tooling and on the floor…more work for everyone. And, the air quality in the plant was less than ideal."
The solution came in the form of programmable roll-coater systems, Uni-Roller S2 models from Unist installed on 12 presses at the Concord facility ("our biggest runners," George Zeni says), beginning in late 2018 and wrapping up toward the end of 2019. "Each system," George explains, "features a programmable fluid controller integrated into the press controls. A key feature for us is the ability to tie the programming for each lube-system setup into the individual job recipe. The ease of setup made the project a good fit for our workplace culture—the operators immediately took ownership of the process change and appreciated the repeatability of the process. And, of course, they really appreciate no longer dealing with excess lube—on the floor, on the dies and, oftentimes, all over themselves."
There's a New Lubricant in Town
Clover Tool Manufacturing Ltd. attacked its overspray issue right after it switched to a new lubricant formulation, and once it had reassurance from Unist that its roll-coater system would prove operator-friendly and easy to set up. The facility stamps aluminum and steel, including advanced high-strength steel, and until recently had been using Visform 3205 stamping lubricant from KSL Lubricants, Burlington, Ontario, Canada. In 2018 it switched to KSL's Visform 3206 lube, when a major customer requested it use a lube with more rust inhibitor.
"The added cost of this lube," explains George Zeni, Clover Tool vice president and sales manager, "was even more reason to look at ways to reduce consumption."
Per KSL, Visform 3206 is a non-chlorinated semi-synthetic heavy-duty compound, with extreme-pressure and lubricity additives, that can be diluted to 15 times and is formulated to minimize water-treatment requirements.
"For lighter-duty applications," Zeni adds, "we've been able to reduce the mix concentration and actually reduce lube consumption compared to the Visform 3205 in some cases."
"One of the most frustrating issues we used to deal with," adds Rob, "was the constant need to tweak the spray systems, move the heads and adjust the spray pattern. We had individual units at each press with multiple sprayers and no control of the operator's decision to use too little or too much spray. In addition, the operators sometimes would waste lubricant by not correctly placing the spray heads in their proper locations, regardless of how much training we provided.
"With the roll coaters," he continues, "we've eliminated all of the operator chores related to the lube system, which has reduced the time to complete die changeovers by 10 min. on average. Once the coaters are programmed for the individual job, we have absolutely zero adjustments to make."
Lube on Top and Bottom
Another advantage with the roll coaters: they apply lubricant on the top and bottom of the material, most appreciated on tools forming the toughest of materials. "We have a few jobs where our tool coatings take a lot of abuse and when using the spray-lube systems, we were forced to recoat our form tools on a regular basis," Rob says. "With the new roll coaters, we've increased the number of hits between recoating the tools by 50 percent on those jobs. And, with better coating life we've seen less burring and die marking on the stamped parts, as well as a reduction in tool adjustments needed to accommodate dimensional issues."
Lastly, customer complaints regarding parts arriving drenched in lube had disappeared, as has most of the fumes from the facility's weld booths, including more than a dozen robotic-welding cells and more than 20 projection-welding cells. "And, weld porosity is practically nonexistent," says Rob.
Easy on the ROI
Bottom line: the new roll-coater programmable lube systems have reduced lubricant consumption by 41 percent and reduced the cost for disposal by 60 percent. Those factors alone allow George Zeni to forecast a 12- to 18-month return on investment, "not accounting for all of the other benefits," he says. "We've had zero slips since the changeover, the toolmakers and operators appreciate no longer having to deal with lube-soaked tools, there's much less cleaning required, no more dripping shop rags…the benefits are endless." MF
See also: Unist, Inc.
Technologies: Lubrication