NH Stamper Waves Goodbye to Chlorinated Paraffins
October 1, 2015
In metal-part manufacturing, chlorinated paraffins are used as extreme-pressure (EP) additives to provide boundary lubrication for extreme drawing, stamping and machining operations. Chlorinated paraffins are inexpensive, readily available (for now, anyway) and extremely effective at relatively low treatment rates. However, following decades of scientific study, it now is widely known that chlorinated paraffins are non-biodegradable and bio-accumulative, and highly toxic to aquatic organisms. Due to the potential for long-range environmental impact, they have been classified as persistent organic pollutants, and are subject to phase-out.
Most believe that sometime in 2016 the EPA will ban the manufacture and consumption of most chlorinated paraffins (to include the short-, medium- and long-chain varieties).
Big Boost in Usage During, After WWII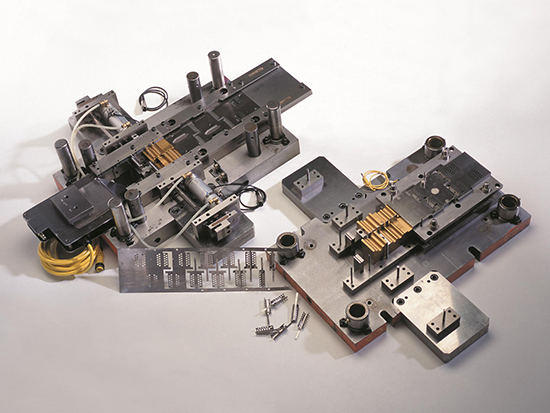 After a rigorous testing process, New Hampshire Stamping has successfully abandoned the use of chlorinated paraffins in producing precision progressive-die stampings.

A century ago, various industrial and commercial applications first began employing large amounts of liquid chlorinated paraffins. The decade leading to World War II saw production of chlorinated paraffins for use as EP additives in metalworking fluids. During the war, their use as flame retardants in clothing and other mostly military applications rose steeply. Though heavily used by the U.S. military, the expanded use of chlorinated hydrocarbons began in Germany.

The October 1946 issue of Harper's magazine contains an article by C. Lester Walker entitled "Secrets by the Thousands," detailing the exploits of the U.S. military in the months following the surrender of Nazi Germany. It is estimated that the U.S. government obtained more than 1 million individual items of Nazi secrets pertaining to scientific, industrial and military technologies. A needle in the haystack was chlorinated-paraffin grease used to lubricate a small generator, which increased the voltage from that of a conventional flashlight battery to upward of 15,000 V.

This generator operated an infrared device enabling soldiers of the Wehrmacht to see at night, with the device containing a tiny electric motor spinning a rotor at 10,000 rpm. The motor had degraded every lubricant used, due to the extraordinarily high operating speed and the excessive volume of ozone it produced. Due primarily to the inherent properties of chlorinated-paraffin technology, the generator ran seamlessly for 3000 hr.—at the time, an unbelievable technological feat.

Following World War II, with a boost from this mind-boggling German application, the manufacture and consumption of chlorinated paraffins for a multitude of industries skyrocketed.