Tuesday, November 6
8:45-10 a.m.
Keynote Presentation
FABx Tech Talks
Based on the popular TED-style concept, FABTECH 2018 kicks off with an exciting format for the opening keynote. The FABx Tech Talks spotlight visionary leaders offering short, inspirational talks on the transformation, growth, advancement and expansion of manufacturing.
12:30-1:30 p.m.
Expert Panel Presentation
Innovate, Accelerate and Advance Manufacturing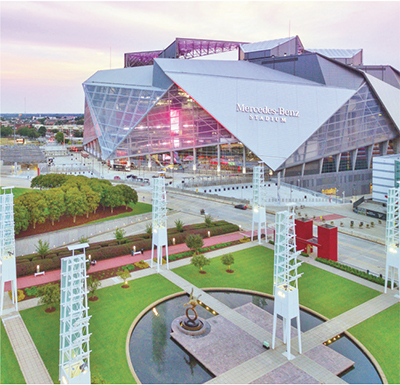 Learn how companies use innovation and advanced technologies to spearhead manufacturing and how they embrace disruptive technologies to remain competitive and profitable. An expert panel focuses on the importance of manufacturing to the economy and jobs, and how new manufacturing processes can accelerate innovation.
6:30-8:30 p.m.
Industry Night at Mercedes-Benz Stadium
Enjoy an evening of fun, food, drinks and networking during the FABTECH Industry Night Party at Mercedes-Benz Stadium, located just steps from the Georgia World Congress Center. Atlanta's newest world-class sports and entertainment complex hosts an evening that includes exclusive access to the field, on-field activities, stadium tours, and a keynote and meet-and-greet with special guest and legendary football coach Steve Spurrier.
Wednesday, November 7
8-10 a.m.
Women of FABTECH Breakfast
Visit with 3DMP in the 3D/Additive Manufacturing Pavilion
Check out the 3D/Additive Manufacturing pavilion, located in Georgia World Congress Center Hall B, and stop by to visit 3D Metal Printing magazine, published by the Precision Metalforming Association, at Booth B5635.
In its second year as part of FABTECH, the pavilion promotes additive-manufacturing (AM) prototype and part production as well as production of workholding devices and production tools. Visit exhibitors showcasing printing machines, hybrid equipment, materials, software and other AM-related products and services.
The Knowledge Bar, held in the 3D/Additive Manufacturing Pavilion, features small group sessions where attendees can ask questions about specific AM challenges and find out what's new from industry experts. These sessions, presentation-free, are all about engaging with knowledgeable people, working through challenges and meeting specific information needs.
For the latest on exhibitors, technologies and presentations slated for the 3D/Additive Manufacturing pavilion, visit www.fabtechexpo.com.

This networking breakfast celebrates the importance of women in the manufacturing sector, and features Laura Cox Kaplan, founder and host of the "She Said, She Said" podcast. She will interview Veronica Braker, vice president of operations for BASF's Performance Materials North America. The breakfast will conclude with a show-floor tech tour.
8:30-9:30 a.m.
Keynote Presentation
Kyle Petty
Kyle Petty is an auto-racing icon and one of the most popular personalities in all of sports. During this presentation, he relates his journey through life as a businessman, philanthropist and one of NASCAR's most respected drivers. His talk explores the strive for excellence, living up to promises, teamwork, community and commitment to family.
12:30-1:30 p.m.
Expert Panel Presentation
State of the Industry
The manufacturing industry is in a constant state of transformation as businesses manage frequent changes in customer needs, handle changing competitive landscapes, and focus on profit margins and revenue growth. Experts discuss the issues such as steel and commodity prices in general, chronic labor shortages, and global trade.
Try Out METALFORM EDU, PMA's Online Workforce-Training System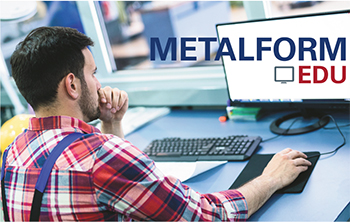 Visit the Precision Metalforming Association (PMA) booth, A1833, and sample METALFORM EDU, PMA's brand-new online workforce-training system. With more than 500 unique courses, 27 recommended learning paths and multiple product choices, METALFORM EDU provides options and resources to train your company's workforce.
Annual, 90- and 30-day licenses are available, covering multiple educational offerings or specific courses, and this one-stop training shop is accessible from any place with an Internet connection. PMA-developed training programs include Metalforming Occupational Aptitude and Knowledge Assessment, Lock Out Tag Out, Basic Press Technician Training and Basic Die Setter Training. Other course topics range from foundational skills in core math, communication, problem-solving, soft skills and personal development, to industry-related skills in precision measurement, blueprint reading, SPC, CNC, Six Sigma, lean manufacturing, safety and more.
Staff will be on hand to help and answer any questions as you demo METALFORM EDU. For more details, visit www.pma.org/metalformedu.
Thursday, November 8
6:30-8:30 a.m.
RUN4MFG
Join FABTECH at the 5th RUN4MFG 5K and show support for the future of manufacturing. Run or walk a 3.1-mile route through Centennial Olympic Park across from the Georgia World Congress Center. Proceeds support the charitable foundations and/or programs of the show-partner organizations.
8:30-9:30 a.m.
Keynote Presentation
Make Way for Gen Z
A new generation is starting to hit our workplace, yet no one is talking about it…until now. Who are the Generation Zers? What has shaped them? What are their expectations around careers and the workplace? What's it going to take to get this generation in the door, on board and up to speed? Generation expert David Stillman teams up with his Generation Z son Jonah for a presentation that sheds light on what makes this newest generation tick.
10:30-11:30 a.m.
Expert Panel Presentation
Manufacturing and the New Generation Workforce
Millennials will make up the majority of the workforce in coming years. Given this, a lively discussion brings together a panel of experts to share a new perspective and help companies understand how to adapt and attract this new generation of employees. Topics covered include best practices in such areas as culture, communication, technology, teamwork and mentoring.
For more information on anything FABTECH, and to register for the show or attend certain show events, visit www.fabtechexpo.com. MF
Technologies: Additive Manufacturing, Bending, CNC Punching