Laser-Texturing Machine Works Wonders on Dies, Molds
December 1, 2012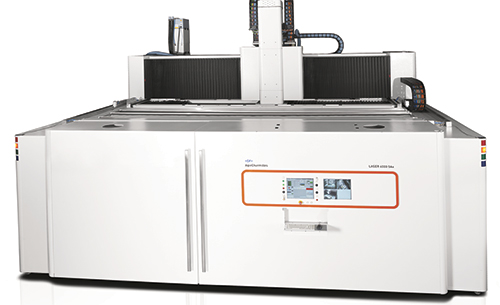 GF AgieCharmilles, Lincolnshire, IL, introduces the Laser 4000 5Ax, reportedly the largest laser-texturing machine on the market. The five-axis machine adds texture to oversized dies and molds as large as 3 by 4 m, and as heavy as 18 tons. The workpiece remains stationary while the machine's axes move around it. The Laser 4000 5Ax manages 3D distortion of texture and masters texture direction related to part shape.
Because of its fully digitized process, the machine allows manufacturers to envision a design, preview it onscreen, and perfectly reproduce it on a workpiece. The machine includes on-board machining strategies to ensure optimal performance and material-removal rate, and accurate reproduction of the intended texture.
With its laser technology, GF AgieCharmilles provides a process that reportedly is faster, quieter and more repeatable than conventional manual and chemical etching processes. And while chemical etching produces only three to five layers, GF AgieCharmilles' laser technology achieves 30 to 50 layers, allowing for greater creativity in part design across a variety of materials, including graphite, aluminum, copper, steel, carbide, brass and ceramics.
GF AgieCharmilles: 800/282-1336; www.gfac.com/us
See also: GF AgieCharmilles