New Line of Flap Wheels, Specialty Abrasives and More
November 1, 2019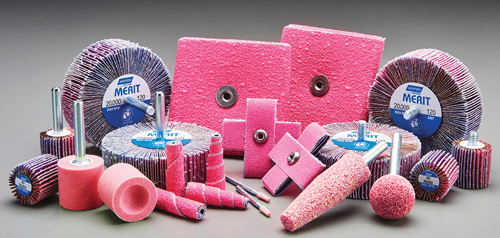 Saint-Gobain Abrasives has introduced Norton Merit Pink R928, described by company officials as a better tier of flap wheels and specialty abrasives, including cartridge/spiral rolls and square/cross pads that feature a superior ceramic grain for greater efficiency when beveling, blending, cleaning/detailing, deburring and finishing stainless steel and other hard-to-grind materials. A variety of mounted points feature Norton 86A aluminum-oxide abrasives, providing a combination of friability and form holding. For hard-to-reach applications, a poly-cotton backing adds more durability compared to traditional cotton-backed products, report company officials, noting that due to a coating on the grain/bond that reduces friction for improved grain-holding ability, the R928 line cuts cooler and faster on hard-to-grind materials.
The new flap wheels feature an improved resin bond system that reportedly extends wheel life and reduces changeover downtime. Offerings include threaded versions, designed for polishing and finishing intricate surfaces, and shank-mounted flap wheels for demanding applications such as heavy-stock removal.
For hard-to-reach inside surfaces and inside corners, cartridge rolls and tapered spiral rolls excel at flash removal, polishing or removing machine marks. Smoother and easier to control than hard wheels, square pads grind nearly as rapidly. Corners wear down to expose fresh abrasive, with pads becoming round for less aggressive stock removal. Cross pads, shaped to enable visibility through to the contact area for conforming to variable internal diameters, find use in close-tolerance polishing of small radii and channels, deburring, and finishing of bell-mouth configurations. Mounted points are small grinding wheels permanently fastened to their own spindle.
The Norton Merit Pink line is the first introduction under the new Norton Merit branding, designed to deliver a simpler, comprehensive product portfolio of specialty abrasives for offhand and portable power tools.
See also: Saint Gobain Abrasives, Norton Abrasives
Technologies: Finishing