New Flap Discs for Grinding Aluminum
December 6, 2020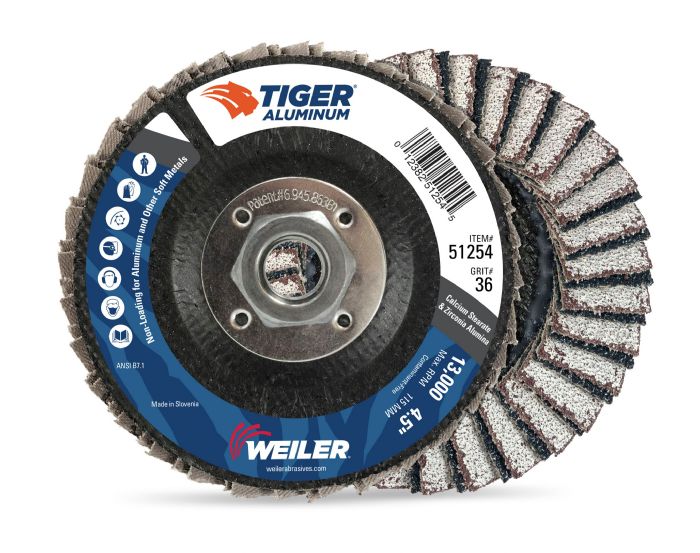 Weiler Abrasives has expanded its abrasives offering to include Tiger Aluminum flap discs, featuring a unique paired-flap design for grinding of aluminum. The design includes a top flap with a coating that prevents loading, provides a high cut-rate and eliminates the need to apply wax or lubricant prior to grinding. Alternating flaps of self-sharpening zirconia-aluminum grains offer aggressive material removal.
"Our extensive testing has shown that the Tiger Aluminum flap discs are an excellent option for efficiently removing material ranging from 3000- to 6000-series aluminum," says Elliot Shepherd, associate product manager for Weiler Abrasives.
The company offers the 4.5-in. Tiger Aluminum flap discs in Type 27 or Type 29 with either 7/8 or 5/8-11 arbor holes and two grit options. The 36-grit disc is identified as a good choice for chamfering, weld removal and stock removal, while the 60-grit disc reportedly is ideal for weld blending, finishing and cosmetic detail work.
See also: Weiler Corporation
Technologies: Finishing