Flap Discs
September 1, 2017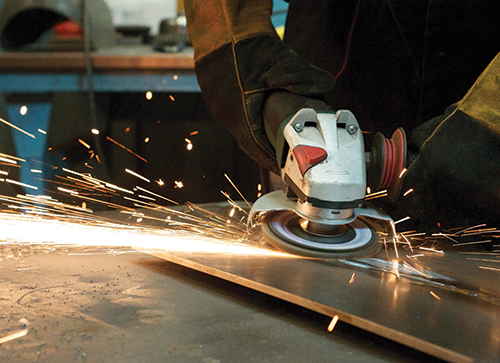 When working with thinner materials, flap discs are often a good choice. They provide reliable grinding action, while also allowing for more delicate blending and finishing work.
Flap discs, when used for applications with thinner materials, can reduce the risk of removing too much material while reducing process costs and time. However, in order to select the best flap disc for the job, features, performance characteristics and job requirements must be considered.
Flap-Disc Basics
When working with thinner materials, flap discs provide reliable grinding action, while also allowing for delicate blending and finishing work because of their soft feel. The flap discs feature coated abrasives that adhere grains—the same grain types found in bonded abrasive—to a backing cloth, typically a cotton, polyester or blended material. This abrasive cloth is then cut into smaller flaps and layered radially to form the flap disc.
How a flap disc performs is largely related to the abrasive material used and its grit size. Three primary cutting grains used on flap discs include aluminum oxide, zirconia alumina and ceramic alumina. The flaps wear away as the grains deplete, which exposes fresh and sharp grains below. When used properly, a flap disc essentially can be used until the cloth is nearly worn down to the back plate.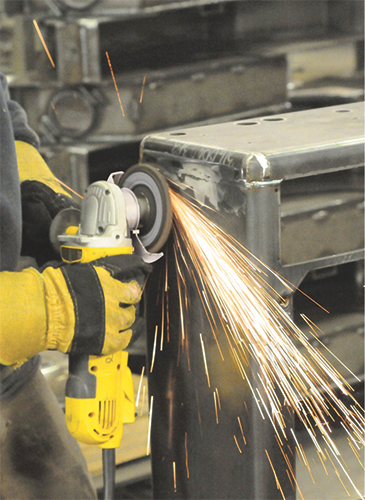 To maximize effectiveness and longevity of a flap disc, use the proper pressure at the proper angle.

In general, flap discs are designed for use on right-angle grinders at angles from 5 to 35 deg. A Type 27 flap disc is best for finishing and applications requiring lower grinding angles ranging from 5 to 15 deg. A Type 29 flap disc is best for more aggressive, higher-angle grinding, between 15 and 35 deg.

Before selecting your disc, consider which type will be best for helping achieve your surface-finish requirements, desired aesthetics, and time, productivity and efficiency requirements, while minimizing labor and consumable costs.

Selecting the Grain and Disc Size

Generally speaking, to ensure the best possible finish, choose the highest grit possible that still gets the job done.
In addition to standard-density flap discs, high-density (jumbo) flap discs have more cloth on them, making them thicker, softer and longer-lasting. High-density flap discs are the best choice for grinding on curved or irregular surfaces.


Flap discs are made in different sizes, too, ranging from 2 to 7 in. A 2-in. disc can essentially replace a blending disc, and gives an operator as much as 15 times the use. Reducing the number of product changeovers can have an immediate and dramatic effect, and significantly lower the overall cost of use.