Flap and Fiber Discs for Metal Fabricating
May 1, 2011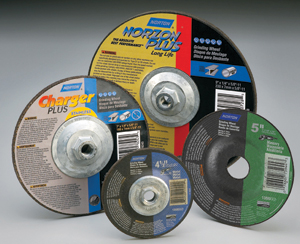 Abrasive-product manufacturer Norton, Worcester, MA, a brand of Saint-Gobain, introduces a new lineup of Norton/Merit flap and fiber discs for right-angle grinding, in three distinct levels of performance and price: SG Blaze Plus, NorZon BlueFire and Merit Metal. Flap discs are engineered for applications ranging from stock removal to blending and are available in Type 27 and Type 29 shapes.
SG Blaze Plus discs feature ceramic-alumina abrasives and a durable, lightweight fiberglass back that provides high strength and vibration absorption. Blaze reportedly produces a cutting rate four times faster than standard aluminum oxide discs.
BlueFire discs feature a new and improved blend of patented ceramic alumina and zirconia alumina abrasive, providing fast, aggressive cutting and which self-sharpens with use. The discs also feature a durable fiberglass back and a semi-open coat that retards loading on aluminum.
Merit Metal flap discs feature an engineered blend of two high-performance zirconia products, cotton and polyester flaps, and provide superior cutting rate, long life and exceptional wear resistance.
See also: Saint Gobain Abrasives
Technologies: Finishing