Automated Finishing of Laser Cut and Punched Parts
March 17, 2023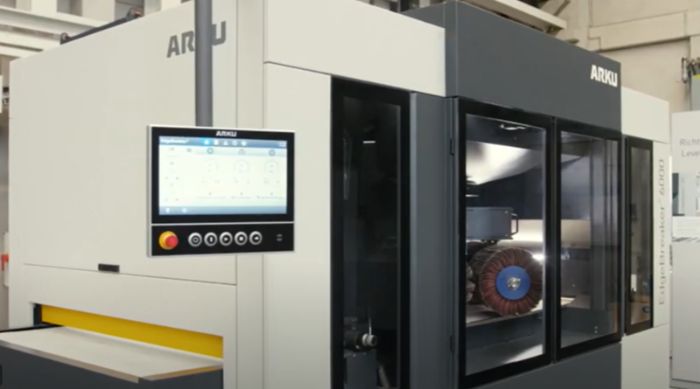 Arku now offers its EdgeBreaker series of machines for deburring and edge rounding of thin sheet metal parts after laser cutting and punching. These units allow fabricators to achieve consistent, high-quality results beyond the capabilities of manual grinding, and without subjecting employees to the possibilities of repetitive-motion injuries, cuts from material edges, or exposure to abrasive and alloy dust. In addition, full deburring and edge rounding improves downstream processing, including paint and coating adhesion.
The EdgeBreaker 6000 unit, for example, provides full deburring, edge rounding and surface finishing through incorporation of a rotary-brush system that ensures a uniform edge rounding result to a radius of 2 mm. It's vacuum belt allows even small parts to be processed, and with the grinding belt, rotary brushes and finishing belt, the EdgeBreaker 6000 is the most versatile deburring machine in the EdgeBreaker family, according to company officials.
Arku Wizard intelligent software reportedly automatically adjusts the processing settings of the 6000 to achieve ideal final results. An intuitive touchscreen human-machine interface enables even new operators to quickly and easily set up the machine, and also provides guidance on operating and maintenance. Simple changeout of abrasives adds to the 6000's ease of use while reducing machine downtime. And, to maintain consistent performance, the machine measures the remaining length of the abrasive media and automatically compensates for wear while finishing. Any dust created from the process can be removed via an attached dust-collection unit.
See also: ARKU, Inc.
Technologies: Finishing