Penn United Unveils Renovated Facility and New Electroplating Line
October 10, 2022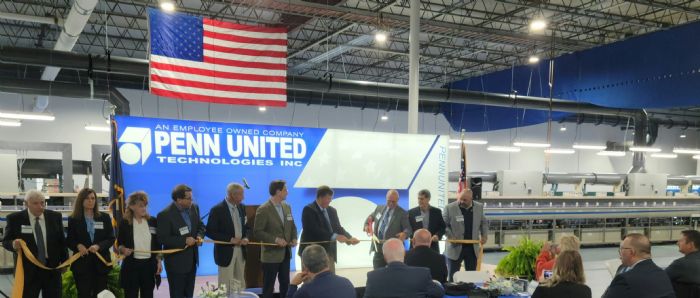 Penn United Technologies, Inc. welcomed dignitaries, customers and others, including MetalForming magazine, to its National Manufacturing Day event on Friday October 7 that featured a grand opening and open recruiting event for the company's Advanced Materials Processing Facility in Sarver, PA. The 50,000-sq.-ft. facility houses a new Technic electroplating line. The line continues evolution of the company's core competency, as in 1982 Penn United, based on needs of several of its customers and partners, installed its first electroplating lines.
The new line, as explained at the ribbon cutting by Bill Jones, Penn United president and CEO, enables the company to expand electroplating capacity by 20 percent for inhouse-stamped metal connectors and terminals.
"In the last few years," says Jones, "we have experienced unprecedented demand driven by exponential growth in our connected world, and the need for stamped and plated electrical contacts and terminals. As a result, we have outgrown our current facility."
The facility will include advanced electroplating and processing lines, testing and quality-control labs, waste-water-treatment equipment, and upgraded environmental controls, as well as a modernized environment for associates. Installation of these capabilities will continue through 2023.
Technologies: Finishing