New Powder-Coating Products, App and Learning Center
December 1, 2018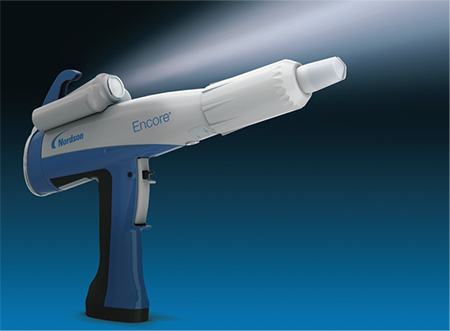 Nordson Industrial Coating Systems has released Encore nLighten, a safety-approved accessory that adds the power of an LED light to the capabilities of the company's Encore manual spray gun, and also rolled out the first major component of its Digital Solutions platform, the Parts Ordering App. Both were on display at FABTECH, as was information on the company's expanded Nordson University.
nLighten reduces rework, decreases the material waste, and eliminates the use of unrated flashlights and other light sources that can create hazards for employees in a powder-spraying environment, according to company officials.
With the new Parts Ordering App, maintenance and engineering teams will have detailed access to replacement parts and image views through mobile smart devices such as a phone or tablet.
The company also has expanded Nordson University at the company's headquarters in Amherst, OH. Nordson University is a two-day workshop that allows customers to learn the fundamentals of powder coating while receiving hands-on experience with Nordson powder-coating machinery. It employs machine data to structure education, testing and development services for customers, their engineering teams and their workforces. This is achieved through hands-on training, simulated advanced factory environments, skill-building in preventive maintenance and troubleshooting, and advanced analytics to improve quality and process optimization, and accelerate new-product development.
"Customers get the opportunity to test our technology prior to making a purchase, and get a personalized, hands-on experience in our lab where we help them optimize their powder-coating process," explains Greg Dawson, senior sales manager.
Equipment labs are placed outside of the classroom doors, with booths, ovens and conveyors located in ideal locations for customers' new-product-development work.

Technologies: Finishing