A Portable Coating Solution to Solve Slug Pullback
March 29, 2021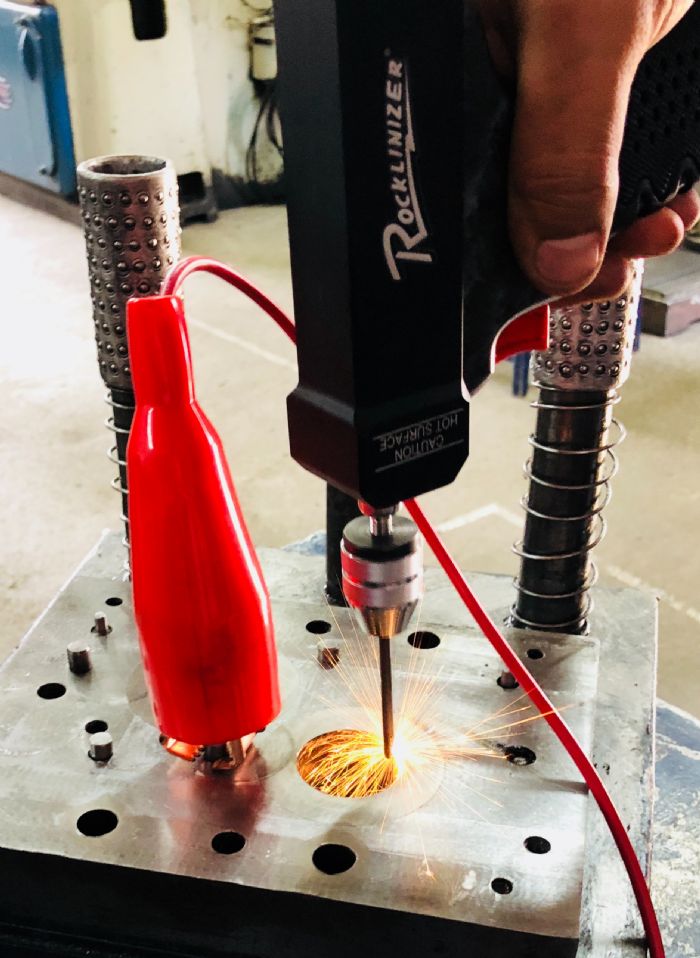 Rocklin Manufacturing, Sioux City, IA, introduces the Rocklinizer micro, a battery-operated portable system for applying the spark-deposition process, used to deposit a protective tungsten-carbide (WC) coating to tooling and prevent slug pullback--when slugs stick to the punch face and are pulled up from underneath the sheet being punched.
To permanently impregnate WC inside and on top of a punch and die button, shops can deploy the precisely controlled spark-deposition process to achieve tolerances within approximately 0.0001 in. The extremely hard coating (approximately Rc 70) can be added to the bottom 1/2 in. of a punch to prevent wear and galling and to retain sharpness. The coating also can be added inside the die button where the punch inserts, usually three or four ½-in. stripes on the wall of the round die button about 1/16 in. from the edge.
Shops can apply WC to worn or undersized punches and dies to reclaim desired tolerances. It also can be applied to new punches and dies to prevent wear before it occurs. Note: When selecting the amount of deposit required, take care to consider cutting-clearance allowance and component alignment.
Use the Rocklinizer micro to apply deposits from 0.0002 to 0.003 in.; other Rocklinizer models can apply deposits exceeding 0.007 in. Electrode material is deposited by adjusting the unit's LED power dial and triggering the handheld rotary applicator. The unit's lithium-ion battery delivers 3 hr. of usage per charge. Alternatively, plug the 10-lb. unit in for continuous use.