Words of Wisdom
Weissenrieder came to the United States from Germany in 1960 to work for his uncle as a tool and die maker, and eventually became the company's manager. In 1972, along with his partner Kurt Augustin, he founded Weiss-Aug, and has since overseen its growth to encompass its stamping, molding and assembly plant in East Hanover; its medical and pharma manufacturing plant in Fairfield, NJ; JK Tool Inc., New Kensington, PA, which designs, engineers and manufactures progressive dies and recently moved into a new 20,000-sq.-ft. addition; Weiss-Aug Mexico, established in 2017; The Diemasters, Elk Grove Village, IL, which Weiss-Aug acquired in 2020 and manufactures medium-gauge stamped and fabricated parts and assemblies; and, most recently, Lupine Research, Boulder, CO, a company focused on new-material development and manufacturing techniques for the medical-device industry. In addition to precision metal stamping, the firm also performs molding and insert-molding operations, and semi- and fully automated assembly.
"Our medical-device and pharmaceutical-industry customers look to us to develop new methods to help speed their time to market, and to provide product development and prototyping," says Weissenrieder. "That requires us to operate, as I like to say, hanging over the edge a little bit. We push ourselves to take on new challenges and grow the company in ways that most other metal stamping companies would not, but that's what has led to our growth and success for the last 50 years, and what will keep it going."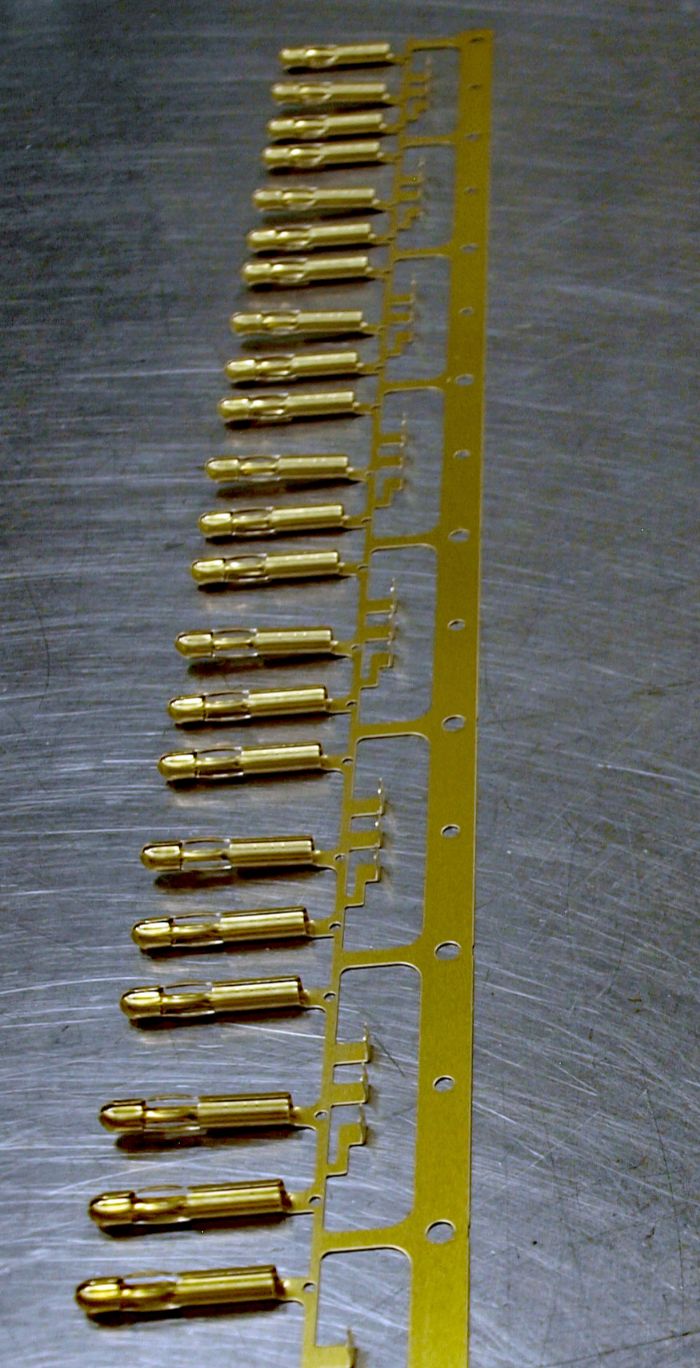 "We're a high-technology company," adds Weiss-Aug executive vice president Beth Weissenrieder-Bennis (Dieter's daughter) "focused on engineering and advanced product development. A lot of our parts started out as machined components, so we're often stamping to machined tolerances."
New Presses Everywhere
At the heart and soul of Weiss-Aug Co. is high-speed progressive-die stamping of disposable medical devices, including drug-delivery products, orthodontics, ophthalmic disposables and devices, and electrosurgery products. And, while it traditionally has been an ultra-high-speed (800 strokes/min. or more) specialist, recently Weiss-Aug has seen the need to supply larger automotive and medical stamped components. That led, earlier this year, to the firm acquiring the new Nidec Minster equipment for the New Jersey facility. In addition, it recently added two new press lines to boost capacity and upgrade the capabilities of The Diemasters facility: a 350-ton straightside press (a Nidec Minster E2H-350 HeviStamper) equipped with a CHS servo feedline; and a 200-ton straightside press (a new Nidec Minster E2-200 model).
And, not to be outdone, the firm's Mexico facility in Monterrey recently took delivery of a pair of Nidec Minster factory-certified used P2H-160 straightside presses. In all, the New Jersey facility runs 34 presses, "and most of them are all new within the last 6 years," says Weissenrieder, "including 11 new high-speed presses."
Stamping manufacturing manager Drew Taormina explains the move to straightside presses:
"When I came here (in mid-2016), Dieter and I put together a plan for refurbishing our pressroom, focusing on our bigger presses, 60 tons and up. When we performed a cost-value analysis based on the types of products that we were stamping in our high-speed department, and where we wanted to grow, strategically it made more sense to invest in larger presses and focus on equipment reliability and durability rather than on pure speed. When we saw how the Nidec Minster presses were designed and built using the single-piece cast frame and low reverse tonnage, in the end the cost-value benefit favored them. And, the new presses allow us to not only move some tooling over from the high-speed presses, but also let us take on larger stampings than we typically run on our high-speed lines."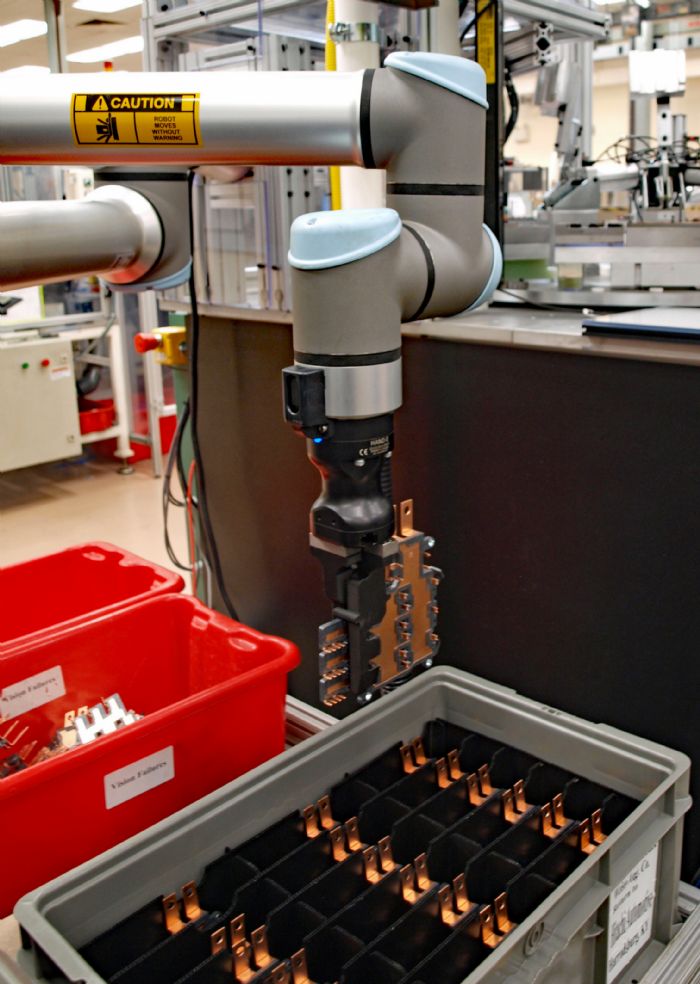 Two of the three new straightside presses in East Hanover, none of which run at speeds more than 450 strokes/ min., are dedicated to specific medical-product lines, including a device used in laser corrective-eye surgery. The third press runs three different dies, including one to stamp brass electrical connectors (1.5-in. strip width, 0.012-in.-thick material) and another to stamp 0.020-in.-thick stainless-steel blades used in surgical procedures.
"Running these dies on the new presses," explains Taormina, "compared to running them on a high-speed press, has greatly improved part quality and dimensional repeatability. One particularly difficult part requires rolling stainless steel sheet into a barrel shape and then coining the blade."
Moving these tools for the high-speed presses over to the new straightsides required some engineering ingenuity from the Weiss-Aug team. "We had to retrofit the new presses in order to fit the dies," says Taormina, "since bottom dead center of the straightside sits 1 to 2 in. above that of the of the high-speed presses. So, we custom-built a bolster addition for each straightside to adjust for new die height—a bolster on a bolster, which also allows us to add conveyors and scrap shakers underneath the dies."
R&D and Training
According to Weissenrieder-Bennis, some 75 percent of the firm's work now comes through its robust advanced prototyping-services unit, a key focus for her. Beth also runs the firm's medical injection-molding and assembly division, located just down the road from the East Hanover location in Fairfield, NJ.
"We perform a lot of prototyping and development work," she says. "We find that many of our customers have downsized or eliminated their inhouse development capacity and rely on their supply base for that. That's why my father and I decided to acquire Lupine, in 2020. Lupine is working on very long-range development projects, with customers looking at pre-development processes for getting new products to market in 2 or 3 yr., vs. more traditional product-development work with a time to market of a year or so."
Among the key technology core competencies provided by Lupine:
Plasma deposition to apply metal alloys, ceramics and other coating materials in ultra-thin layers, optimize wear and corrosion resistance, and provide electrical insulation.

Automation and machine learning for metrology applications, to improve vision-based inspection of micro defects.
"In product development and prototyping," explains Weissenrieder-Bennis, "in addition to plasma processing at Lupine Laboratories, our lab at the Fairfield, NJ, plant performs laser etching and cutting, and single-stage stamping and molding."
In addition to Lupine, Weiss-Aug has carved out a sizable separate area of the East Hanover operation to house a dedicated new-product-development area, "with tiny little presses and single-station dies," says Weissenreider, "where we can focus on part and process development. The speed of time to market, cost reduction and ingenuity we provide are the capabilities that customers seek."
On the workforce-development front, a challenge nearly every metal former faces, "within the stamping area we look to hire people that have the right personality to mesh with our team," says Taormina. "And, we foster an inclusive environment, by including our engineers, diemakers and setup team in the decision-making process—stamping and process development, for example. The more we engage our younger team members, the more they become engaged with the company.
"We have hired two recent college graduates," he continues, "that have bright futures here. It comes down to personality, as more people seem to have the book smarts today. We just have to engage them, get them involved and let them make decisions. And, if they make a mistake, we must ensure that it's a learning opportunity."
"Seeing us investing in new equipment also helps engage our new hires," adds Weissenrieder-Bennis. "I think that we impress them with the level of investment here, in automation for example."
Also beneficial has been Weiss-Aug's commitment to developing a solid internship program, working closely with the New Jersey Institute of Technology (NJIT) and Stevens Institute of Technology.
"We average 8 interns/yr.," Weissenrieder-Bennis says, "primarily co-op students that stay with us for an entire summer. And many come back to work for us after graduation—we probably hire two or three former interns each year. Much of our team came from these two schools, and in fact we just invested in a new laboratory for NJIT, equipped with a machining center with robotic loading/unloading, and a CMM with a cobot. If we can hire two good engineers from there every year, it will pay off." MF
Industry-Related Terms:
Alloys
,
Brass
,
Center
,
Coining
,
Core
,
Corrosion Resistance
,
Die
,
Edge
,
Etching
,
LASER
,
Lines
,
Mesh
,
Run
,
Scrap
,
Stainless Steel
View Glossary of Metalforming Terms
See also: Weiss-Aug Company, Inc., Nidec Press & Automation, Nidec Vamco
Technologies: Stamping Presses