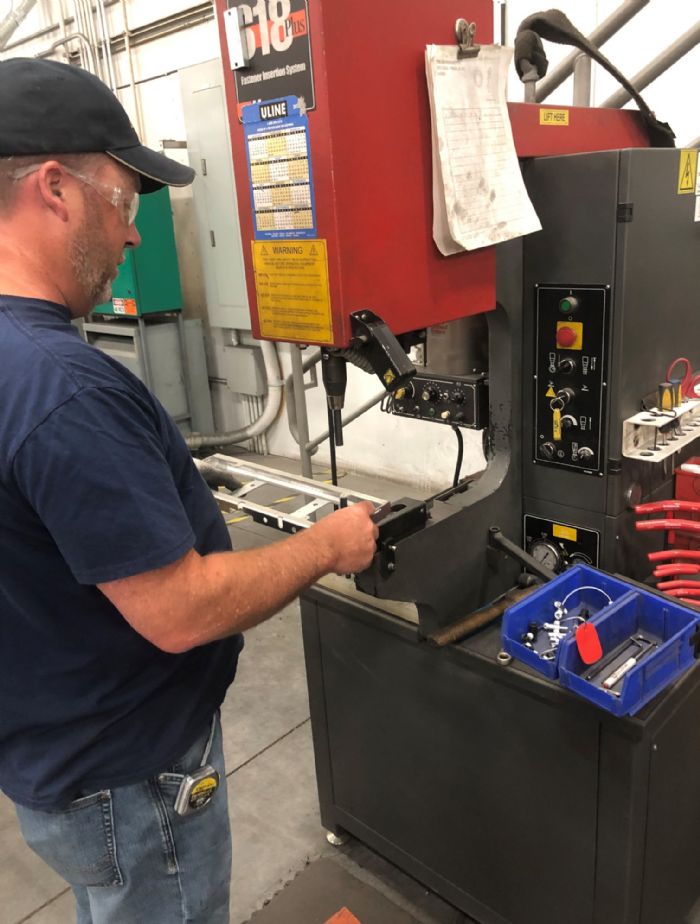 "We cost labor hours through the RRC the same as our other work centers," Brake says, "giving customers another reason to utilize the RRC. We also can use the RRC for trial one-piece-flow projects, testing alternative production methods, or for employee skills testing."
Since establishing the RRC earlier this year, DSI has experienced rapid growth. "Customers now are extremely satisfied because they receive their prototype parts more quickly and, therefore, have been awarding us more prototype and production work," says marketing manager Randy Dennison. "The stress level in the production shop also has decreased. Everything is running more smoothly. Now when employees see the RRC prefix in the job number, they simply send it to RRC knowing that they can continue their normal, long-run production jobs without sacrificing time and quality."
Better Equipped to Handle Design Iterations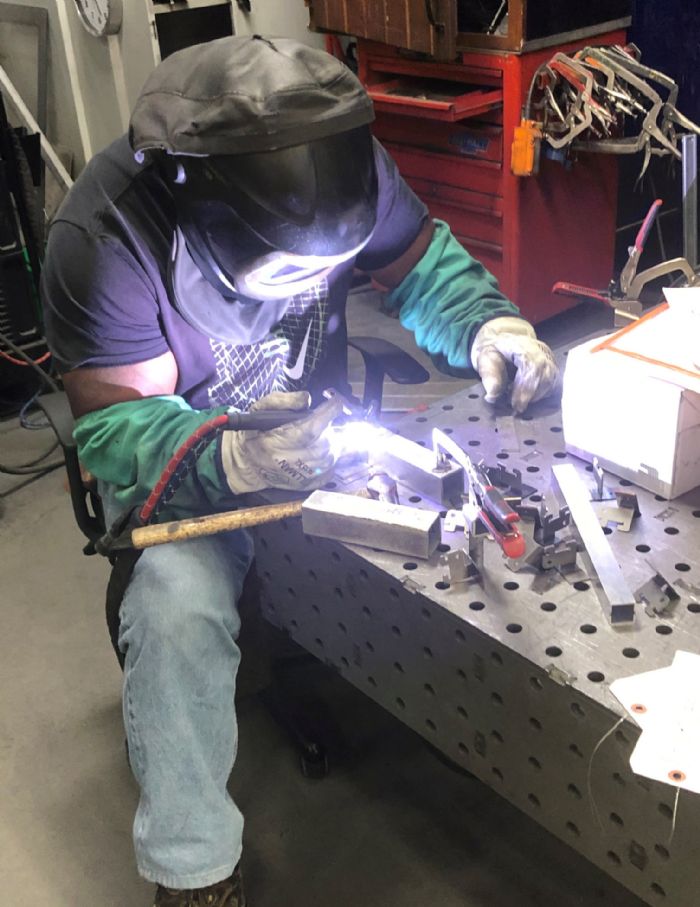 DSI historically has focused much of its metal-fabrication work on supplying retail display racks and the like for in-store product marketing. Its customers work with marketing firms who in turn work with the product suppliers and retail outlets to constantly update and refine their displays. That constant churn in product design keeps DSI on its toes, as it's often asked to iterate prototypes several times within a short period of time.
Inside the DSI Rapid Response Cell
Mazak Model 3015 Optiplex Champion

Flying optics, bridge-style, 3-kW fiber-laser cutting machine
Miller Electric Dynasty 400

400-A AC/DC gas-tungsten- and shielded-metal-arc welding pulsed power supply, with water-cooled torch and wireless foot pedal

AccuPress Model 7606

60-ton, 6-ft. press brake with Advantage package designed for off-center and stage-bending applications

Haeger Model 618 Plus

6-ton, 18-in.-throat fastener-insertion machine with automatic feeder
"Customers always want more sleek designs that focus the attention on the product, not on the display itself," says DSI engineering manager Lisa Horn. "That requires some refinement as to how things are mounted, or to the surface finish of the fabricated displays. And, some customers make high-end products, requiring high-end displays with complex forms and product features, tight fitup tolerances, and a refined surface finish. In addition, we gas-tungsten-arc weld a lot of our products and must try to minimize weld spatter and cleanup. When we form parts in our press brakes, we work to remove tool marks."
DSI fabricates primarily 16-gauge mild-steel sheet, covering the range from 20 gauge to as thick as ½ in. And, notes Horn, it's seen an increase in the use of aluminum extrusions. Tolerances fall into the 0.015- to 0.030-in. range, "requiring us to fine-tune our press-brake process especially on parts with multiple bends."
Helping along those lines is the firm's new Amada HRB 1003ATC press brake with state-of-the-art bend-angle compensation technology—not part of the RRC but called on when jobs require it.
"It's the coolest press brake I've ever seen," Horn says. "It double-checks the bend angle and makes adjustments as required. And, of course, in production they appreciate the automatic tool changer to achieve fast setups to optimize machine green-light time."
Scheduling Issues Solved
Discussion surrounding the RRC began early in 2020 as the desire to increase its quick-turnaround prototyping capacity conflicted with the need to prevent production interruptions. "We often were having to break down production jobs to fit prototype jobs into the schedule," recalls Brake. "The RRC solved our scheduling issues, enables us to turn jobs more quickly and also allows us to spend more time with our customers on the front end of new projects helping with product design and design for manufacturability."
"The RRC also works in our favor," adds Horn, "if a customer forgets or delays in placing a recurring production order and asks us for even tighter lead time than normal—which happens. If it's a relatively small order, say 20 parts, we can run it through the RRC. And, the ability to run more prototype jobs helps attract new customers that in turn evolve into production jobs down the road. It's a win-win!"
DSI dedicates two operators to the RRC, which runs one shift/day. "We selected our best operators to staff the RRC," Horn says, "our top-tier welder and most-skilled press brake operator. While it was painful to pull them off of production, in the end other operators have stepped up to fill the voids, and the RRC performs at its peak level. We're running dozens of jobs/week, including one recent week where the cell processed 40 jobs. When a job comes through for the RRC, it gets immediate attention from the entire team; everyone knows how important it is that the RRC perform at a high level."
When first launching the RRC, the firm quoted five-day lead times, "but we're close to two-day lead times now," Horn says. "And, in some cases we can get a new job into the system and out the door in one day."
One enabler of such a decrease in lead times: recent addition of a Certiflat FabBlock welding-fixture table (from weldingtables.com), 4 by 8 ft. and 3⁄8 in. thick, with a 16-mm hole pattern to hold clamps and tooling.
"This table eliminated a lot of the time required to fixture our welding jobs," says Horn, "and we can fit several weldments on the table at one time so that the welder optimizes his arc-on time. It's added quite a bit of value to the RRC. The next addition to the cell will be bar coding." MF
Industry-Related Terms:
CNC
,
Fixture
,
Form
,
Gauge
,
LASER
,
Lead Time
,
Lines
,
Model
,
Prototype
,
Run
,
Spatter
,
Surface
View Glossary of Metalforming Terms
See also: Haeger, Inc., Miller Electric Mfg. Co., Mazak Optonics Corporation, Accurpress America
Technologies: Bending, Cutting, In-Die Operations