Survey: North American Light Vehicle Aluminum Content
April 11, 2023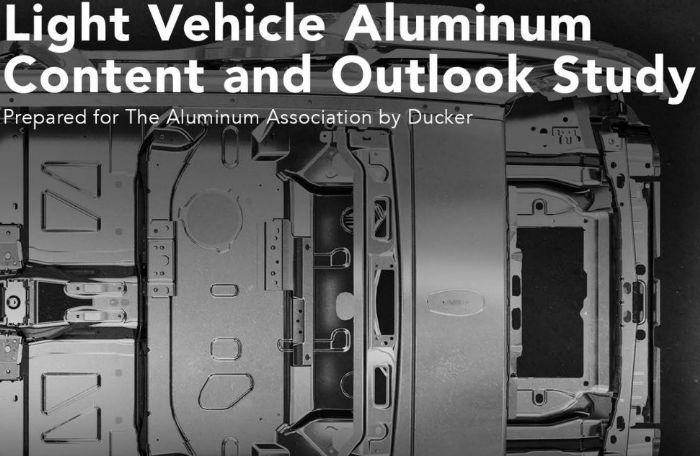 A new Aluminum Association survey of automakers and Tier 1 suppliers confirms that aluminum use in new electric vehicles will continue to grow through the end of the decade, largely fueled by demand for more sustainable transportation. The report, prepared by Ducker, indicates that the demand for more sustainable transportation will help drive an increase in market share for aluminum content by nearly 100 net lb./vehicle from 2020 to 2030.
Among survey highlights:
Light trucks are expected to have an average of 564 lb. of aluminum content in 2030, a comparable level to that of D-segment cars (smaller cars such as the Honda Civic and BMW 3-series).

E-segment passenger cars (executive cars in the mid- and full-size range) comprise more than 900 lb. of aluminum/vehicle, thanks to new EV models such as the Tesla Model S and Lucid Air.

More than 130 light-truck models will be launched from 2023 to 2025, of which around half are BEVs and most of the rest hybrids.

BEV new-model launches outnumber PHEV (plug-in hybrid) launches by an approximate factor of three moving forward. Even new ICE-vehicle models will all have some form of mild electrification.
See also: Aluminum Association
Technologies: Materials