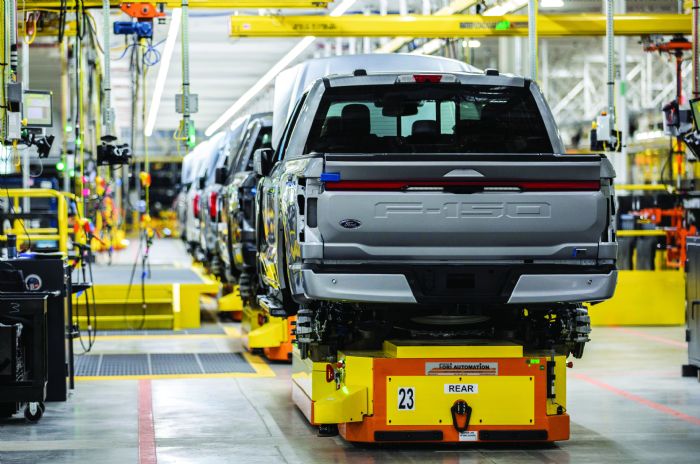 While the semiconductor shortage is expected to persist well into 2022, there does seem to be some light at the end of the tunnel, as GM raised its full-year financial outlook to $14 billion, from a previous guidance of $11.5 to $13.5 billion in adjusted EBIT, claiming that the revision is due to improving supplies of semiconductors. Likewise, Volvo Cars, in its first quarterly report since going public, stated that semiconductor supplies have improved month over month since September. IHS Markit analyst Phil Amsrud said recently in an AP report that while chip supplies won't improve immediately, "we're seeing 2022 as being an improvement over 2021."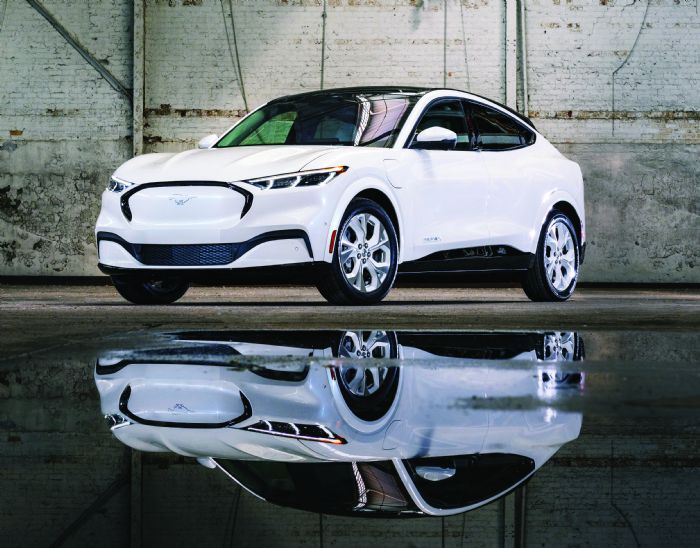 "The pace of plant shutdowns in North America has slowed from previous months," notes a December 2021 LMC Automotive report, "and we have reduced the expected production loss in Q4, due to chip shortages and other disruptions. However, vehicle manufacturers are choosing to slow the daily build rate instead of shutting down the entire plant, reducing the visibility of output downtime. …With some additional stability in production, the outlook for U.S. auto sales has improved slightly for 2022—from 15.7 million units to 15.9 million units, an increase of 6 percent over 2021."
Jeff Schuster, president, Americas operations and global vehicle forecasts at LMC, adds: "A slight improvement in production is welcome news for the industry…2022 most certainly will be challenging but if the consumer remains optimistic and demand continues, the recovery is expected to remain intact. Other risks remain elevated, including concerns with the Omicron variant and lingering inflation, keeping the current environment very dynamic."
In addition, according to a Cox Automotive press release, inventory levels in the United States are less than half of what they were a year ago…"but the worst is likely behind us. Our industry analysts expect pent-up demand to feed the industry with a steady stream of buyers for the foreseeable future. …New-vehicle sales in 2021 will finish closer to 15 million and recover to 16.3 million in 2022."
On the Electric-Vehicle Front
…IHS Markit reports that "installations of renewable energy and sales of electric vehicles (EVs) set records in the United States in recent quarters, as the economy rebounded from COVID-19 and the energy transition continued to gain steam." Data from the Industry Alliance for Automotive Innovation (AAI) in its Q3 quarterly report issued in mid-December reveal "consistent growth in the ZEV (zero-emission vehicle, including battery, plug-in hybrid and fuel-cell vehicles) sector. Year-over-year, the third quarter had 82,000 more ZEV unit sales than the same period in 2020. Through the first three quarters of the year, ZEV sales represented 3.9 percent of the market, up from 2 percent over the same period of 2020."
A recent CNBC report estimates EV market share to climb as high as 8 percent by 2025.
"The increased selection of ZEV models is accompanying growth trends," the AAI report continues, "with sales of crossovers, SUVs, minivans and pickup trucks making up nearly 60 percent of the ZEV market. …Monthly sales of BEV and PHEV CUVs have grown from less than 16 percent of ZEVs at the start of 2020 to an average of 52 percent in the third quarter of 2021 (averaging 51 percent of ZEV sales since the start of the year)."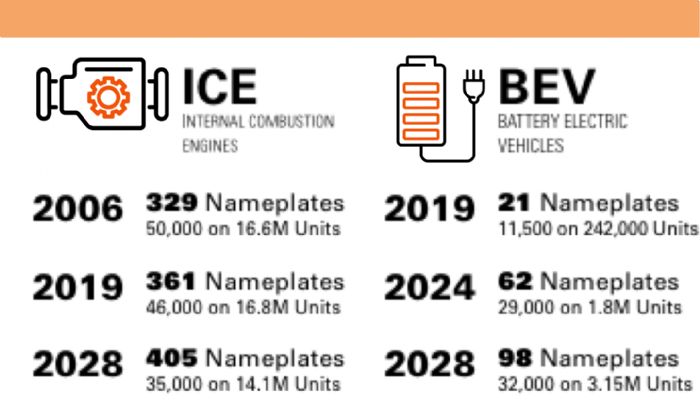 IHS Markit principal automotive analyst Stephanie Brinley adds: "In 2022 we will continue to see increased EV sales, as new EV options continue to launch and price and segment options continue to expand. ...General consumer demand trends have continued in 2021 and share of utility vehicles and pickup trucks continues to increase, with utilities approaching 55 percent of new-vehicle sales, while pickup truck sales are approaching 20 percent of sales."
According to the International Energy Agency, while the global EV count was less than 100,000 in 2010, that number climbed above 11 million units in 2021 and will approach 100 million by 2030.
Exemplifying the ZEV movement, Toyota announced that its European new-vehicle sales will be zero-emissions by 2035, with an interim goal of reaching 50-percent ZEV by 2030, and the automaker plans to invest $1.3 billion to build a new EV battery plant in North Carolina that will employ 1750 people and begin production in 2025. Other recent EV news: Bollinger Motors announced a strategic collaboration with EAVX to develop electric work trucks; and Volkswagen estimates that it will invest as much as 30 billion euros in new battery-cell manufacturing sites and raw materials, and has set a goal of opening six battery-cell plants in Europe by 2030. Ford recently announced plans to double production of its electric F-150 Lightning, from 40,000 to 80,000 units at its new Dearborn, MI, facility, and triple production of its electric Mustang Mach-E. It also announced plans to invest $11.4 billion on new production campuses in Tennessee and Kentucky and create 11,000 jobs "in pursuit of becoming a major player in the electric vehicle arena." For its part, General Motors soon will join the electric-truck fray with an all-electric Chevrolet Silverado on the horizon.
Grappling with the Dramatic Pace of Change
All of this has suppliers on edge, "grappling with the dramatic pace of industry change," notes Amir E. El-Aswad, a litigation attorney with Foley & Lardner LLP, in his report on a December meeting held by the Original Equipment Suppliers Association (OESA). Part of its Strategic Insights Executive Briefing Series, the OESA meeting addressed the theme of supplier competency and EV readiness.
Deloitte Consulting kicked off the conference with a panel discussion, reports El-Aswad, and shared actionable insights from Deloitte's 2021 Global Automotive Supplier Survey (GASS), including identifying "four significant forces disrupting the automotive supply industry: electrification, technology convergence, new entrants and supply-chain difficulties."
In terms of new technology, "as cars evolve, users increasingly demand different functionalities, shifting the value from hardware to software," El-Aswad writes. "Based on the rapidly changing consumer preferences, software may soon make up over 30 percent of vehicle content. This would shift revenue and profit pools from traditional hardware sectors to new content creators."
Within the supply chain, "disturbances caused by the COVID-19 pandemic and ongoing semiconductor shortage have brought a new focus on the resiliency and agility required to manage supply-chain operations," he adds, "with success shared by new high performers. …Supply-chain agility is the best antidote to the increasing complexity. Suppliers can develop their agility by actively monitoring fast-moving markets, predicting and prioritizing an endless stream of risks, and orchestrating internal and partner recourses to respond quickly."
According to Deloitte's GASS, producers of electric drivetrains, batteries, fuel cells and advanced driver-assistance systems have experienced significant growth and may continue to see exponential growth of as much as 475 percent from 2020 through 2025. "Meanwhile, growth for certain other traditional automotive components is projected to stagnate or even shrink," El-Aswad offers.
To stay relevant, according to Deloitte, suppliers need to adapt, and quickly. For starters, "keep abreast of the turbulent supply chain by improving and standardizing data retention and significantly invest in digital technology, like robotic process automation solutions, artificial intelligence and predictive analytic technology," El-Aswad surmises.
Where does the industry stand on making the needed investments? Consider these data points from the OESA Automotive Supplier Barometer Q4 2021:
Forty-one percent of suppliers are very confident that their company will move ahead and implement the needed capital investment to meet their 2022/2023 demand requirements.

Thirty-eight percent of suppliers believe that they are ahead of the industry's pace of innovation while 28 percent feel that they are behind.
Automotive Tooling Outlook
On the tooling front, "the next decade is being forecast as generally favorable for suppliers of automotive tooling" shared Laurie Harbour, president and CEO of Harbour Results Inc. (HRI), during her 2021 Automotive Tooling Outlook report.
"The performance of manufacturing overall is really quite good," Harbour said. "Durable goods demand is very strong, driving not only new volume but new programs, so lots of new models."
Harbour reported that 76 percent of the tool and die makers that HRI surveyed eye 2022 generally optimistically, expecting an average of 10-percent revenue growth; 90 percent of those surveyed projected more than 3-percent growth in earnings before interest and taxes at end of 2021.
Promising for tooling suppliers: OEMs are investing to develop a lot of new nameplates. In 2019, the industry supported 361 nameplates for internal combustion engine vehicles and 21 for battery electric vehicles, reported HRI business analysis manager Matt Trentacost. By 2028, those figures are expected to increase to 405 and 98 (Fig. 1), respectively, driving new-tool development. MF
Technologies: Management