Waterjet Precision and Versatility
October 1, 2013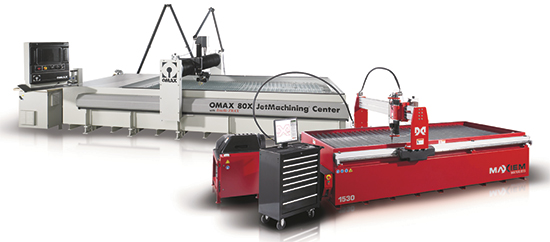 Omax
Booth S1067
Omax Corp., Kent, WA, will showcase how its advanced abrasive-waterjet technology quickly and accurately cuts simple to complex parts from virtually any material. Booth visitors will discover the endless machining possibilities of the company's premium Omax JetMachining centers and versatile Maxiem JetCutting Centers, and a slew of accessories.
JetMachining Centers comprise cantilever and bridge-style machines, in table sizes from 2 by 2 ft. to 46 ft.-8 in. by 13 ft.-4 in. At the booth will be a model 80X bridge-style machine, featuring X-Y cutting travel of 13 ft.-4 in. by 6 ft.-8 in. Providing direction to the machine: Omax's Intelli-Max Software Suite, which simplifies the control of the jet stream while cutting, and also automates programming and tool setup. Equipped with an A-Jet cutting-head accessory, the machine produces precise angled cuts and bevels as well as automatically corrects for the taper normally found in an abrasive waterjet cut.
Also on display: a model 1530 Maxiem, with a compact footprint and X-Y cutting travel of 10 ft.-2 in. by 5 ft.-2 in. With an electrically operated Motorized Z-Axis, the machine can achieve precise nozzle positioning. The accessory provides 8.75 in. of travel and heads-up traverse to avoid obstacles.
See also: Omax Corporation
Technologies: Cutting