New Technology Cuts Machining Workload, Enables More Assembly
"The laser machine probably took 60 to 70 percent of the work from our machining operations, and what we still had been machining, the waterjet machine took at least 20 percent," says Gerken. "Using just standard cutting and machining, we may only be able to produce 10 parts/day, but with waterjet cutting, we can do 200. As the machining workload backs up, we are pressured to relieve that backup and improve production. When this would happen, we'd face fourth and 10. Do we punt or go for the first down. With the waterjet and laser machines combined, we get the first down.
"By using the laser and waterjet machines on those secondary processes," he adds, "production goes up, cost goes down, and customers keep knocking on our door."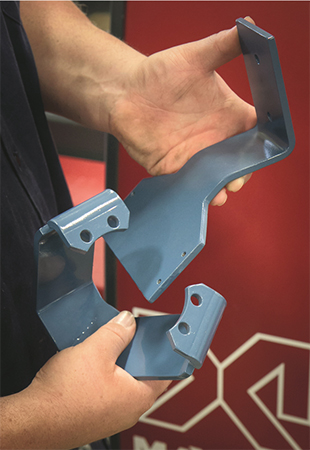 Perfection Fabricators uses its capabilities in laser and waterjet cutting, machining, bending and painting to produce finished parts for automotive, industrial and other customers. The addition of waterjet and laser technology has cut the use of time- and cost-intensive machining and other secondary processes.
Today's fabricators must work with a variety of materials if they are to become preferred suppliers of assemblies, which always is Perfection's goal. The mix of inhouse technologies, keyed by the waterjet-cutting addition, allows the company to reach that goal.
For example, Perfection picked up a large order where it had been shearing polycarbonate, then taking it to a separate drilling operation, using a template to place holes.
"If needed, with the waterjet-cutting machine, we can cut any type of material that won't dissolve in the bed," Gerken says. "So with the polycarbonate, we just program the job and everything is done there. It cuts out transport and added machine time, and frees that machinery for other work."
Perfection's new ability to fabricate varying materials also helps it with assembly, a value-added process that finds great favor with customers looking for a one-stop provider.
For example, the company supplies one customer with high-pressure tanks for valve testing. Perfection can fabricate the metal tanks, then insert sight glass, cut on the waterjet machine, into tank holes, thus providing a finished tank. That capability keeps this business with Perfection, claims Gerken.
"Now we can perform jobs from A to Z," he says, "not just welding and shipping, but actually supplying complete assemblies finished and painted and ready for use by the customer right out of the box."
Up and Running Quickly and Efficiently
Once Perfection purchased the waterjet-cutting machine, fitting it into the company's production environment was a somewhat simple affair, according to Gerken. Power for the new equipment posed no challenge, since the company had already upgraded that service to bring in the laser cutter. Crews simply cut a 4 by 4-ft. slab of concrete out to install a ¾-in. water line, and leveling required only a digital level, two technicians and 20 min.
After brief introductory training, Perfection unleashed operators on it to perform regular duties and test new parameters and capabilities, aided by the company's experienced laser technician.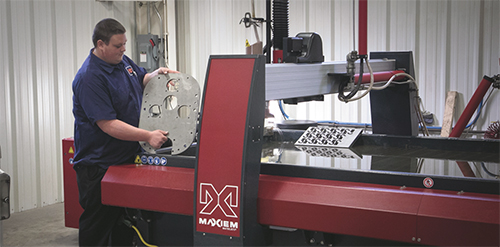 Installation of the new waterjet-cutting machine was somewhat simple. Crews at Perfection Fabricators simply cut out a 4 by 4-ft. slab of concrete to install a ¾-in. water line, and leveling required only a digital level, two technicians and 20 min.
"Besides production, we employ the waterjet machine for fixtures and other items we use inhouse all of the time," Gerken says. "If a cutting job takes 3 hr., our operator can be creative and figure out ways to increase production."
That creativity has paid off in ways big and small. For example, to reduce cutting time, if an outside part edge is slated for welding, the machine is set to cut quickly even though doing so diminishes edge quality. Then again, for precision, say a hole must hold a 0.005-in. tolerance, the waterjet machine can do the job.
Complementary Technologies for Perfection
Once running, the waterjet- and laser-cutting machines formed perfect complements for Perfection.
"If your goal is simply production with the right materials, a laser cutter is the way to go," Gerken reasons. "But we have one laser, and are limited to metal alloys of a certain thickness. With the waterjet machine, we can cut any material in any thickness…we've already cut 2.75-in.-thick steel. But we don't want to make that a habit due to the time it takes. We want to max out at 1.5 in. So not only does the waterjet machine complement our laser-cutting capability, it serves as our backup system. If the laser goes down, we keep working."
Perfection also has found ways to use the two machines in tandem. Prior to 2011, Perfection might have had to machine a certain part profile, resulting in a part cost of $125.
"Now, with our laser- and waterjet-cutting capability, we can load a program and produce that same part for $12," explains Gerken, showing MetalForming a part that Perfection once had machined and now produces solely on the waterjet machine. "That brings customers back. Tell your customers that their parts cost more because we have to load a part, shear it, take it to a mill and machine it, the next thing you know they are down the road talking to the guy with laser- and waterjet-cutting machines."
The addition of waterjet cutting keeps Perfection busy, mixing multinational automotive and industrial customers with locals looking to repair a lawn chair.
"We pride ourselves on the fact that since we've opened in 1973, we've never had a salesperson," says Gerken. "We gain all of our business through word-of-mouth and repeat work."
The company is looking to add to its laser- and waterjet-cutting capabilities and may take new directions in 15 years or so when the third Ennes generation, Parker, who currently operates the Omax, takes the reins. With lessons learned in adopting new technology, Perfection is not afraid to continue along that route.
"If we didn't bring in technology such as this waterjet-cutting machine," says Gerken, "we would be at six employees and performing the same old work for customers that are okay with doing things the old way. Now we do work for customers such as the U.S. Air Force and NASA because we can. But we still work with Joe from down the street who wanted us to build 30 lantern holders for his rowboat...we don't turn much away.
"We've gone from the Stone Age to state-of
-the-art," he concludes. "We want the work and we have to keep up with this industry."
MF
Industry-Related Terms:
Alloys
,
Bed
,
Bending
,
CAD
,
Center
,
DXF
,
Edge
,
Insert
,
LASER
,
Model
,
Nesting
,
Prototype
,
Run
,
Shearing
,
Stainless Steel
,
Thickness
,
Tolerance
View Glossary of Metalforming Terms
See also: Omax Corporation
Technologies: Cutting, Fabrication