Waterjet-Cutting Systems and Software
October 1, 2015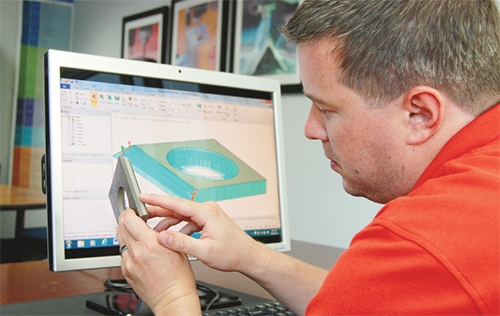 Flow International Corp.
Booth S3901, S3521
Flow International Corp., Kent, WA, showcases its latest waterjet software, FlowXpert 2015, and features its technology, including live cutting demonstrations of its Mach 4 and Mach 2 waterjet-cutting lines. The FlowXpert 2015 software suite is a 3D CAD/CAM platform that includes Design powered by SpaceClaim, an integrated 3D-modeling tool. Designed specifically for waterjet cutting, the suite delivers improved pathing workflows, according to company officials, resulting in faster waterjet programming.
The Mach 4 offers an expandable modular design, an exclusive Nexen roller pinion system, and an ergonomic design to improve operator convenience and productivity, with lighting to enhance workpiece visibility, efficient abrasive removal and simple access to material and parts with full four-sided accessibility. At FABTECH, the Mach 4 combines with Flow's HyperJet pump, rated at 94,000 psi, and Dynamic Waterjet high-precision flat-stock and 3D cutting technology.
The Mach 2 is a value-priced machine tool optimized for either pure or abrasive waterjet cutting. Whether cutting 3-in.-thick steel plate or multi-stacked gasket material, the Mach 2 provides rapid and accurate cutting, and is displayed with the modular-designed HyPlex Prime pump.
See also: Flow International Corp.
Technologies: Cutting