Waterjet Cutting Elevated to Extraordinary Levels of Speed and Performance
January 1, 2015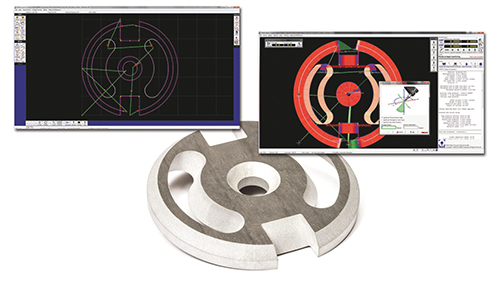 Omax Corp., Kent, WA, has expanded its Intelli-Max software suite for its JetMachining Centers with the release of Intelli-Max 21, boasting a fourth-generation cutting model that optimizes tool paths automatically and gives users precise predictability as to cutting speeds, taper, jet lag and other parameters. The new cutting model builds upon years of real-world abrasive-waterjet data to provide precise process and machine-behavior predictions.
Says Carl Olsen, Omax's lead software engineer: "Abrasive waterjet users gain the highest level of control, most uniform cutting and surface finishes, extended ranges of machinability and the best cutting precision, speed and repeatability."
Based on customer feedback, Intelli-Max 21 includes AutoPath command improvements, better import capabilities for DXF/DWG and PDF files, and enhanced memory for the 3D Path Editor.
"Whether it involves better file importing or expanding our parametric shape library for enhanced 3D cutting, we continuously update and improve the software to support the diverse and changing needs of customers," adds Olsen.
www.omax.com/waterjets/software
See also: Omax Corporation
Technologies: Cutting