Versatile Waterjet Cutting Machine with Multi-Axis Cutting Head
September 14, 2020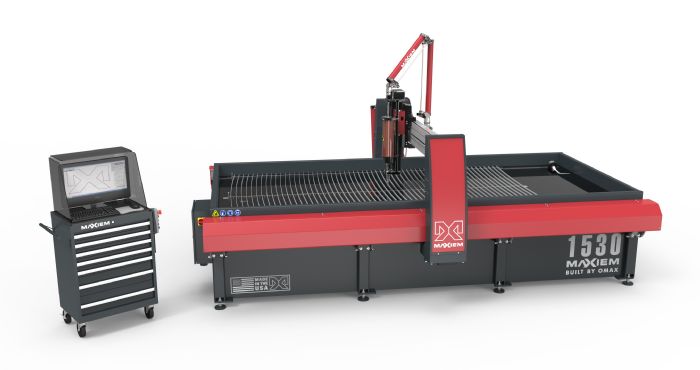 The Omax Maxiem 1530 abrasive waterjet cutting machine paired with an optional A-Jet cutting head provides a cutting range from 0 to 60 deg. off vertical, and easily cuts beveled edges, angled sides and countersinks, according to company officials. Advanced features in the system's IntelliMax software suite allow the A-Jet head to compensate for taper and create complex 3D shapes.
The Maxiem 1530 offers a cutting area of 10 ft. by 5 ft. 2 in., with its rigid-tank design scaled to handle common plate sizes with room to spare. An advanced linear-motion system uses digital linear encoders that reportedly provide instant, accurate cutting-head position feedback to the controller for precise part production.
The machine's IntelliTrax linear drive system employs brushless servo motors, integrated servo drives and high-precision linear encoders to provide constant, continuous feedback on cutting-head position, and delivers X-Y-axis motion accuracy to +/- 0.003 in.
The 1530 accepts a variety of optional accessories and accommodates a broad range of production requirements, according to company officials. Along with the A-Jet multi-axis cutting head for five-axis machining and taper compensation, accessory options include Omax' Rapid Water Level Control for quiet, submerged cutting and Terrain Follower for working with uneven surfaces.
See also: Omax Corporation
Technologies: Cutting