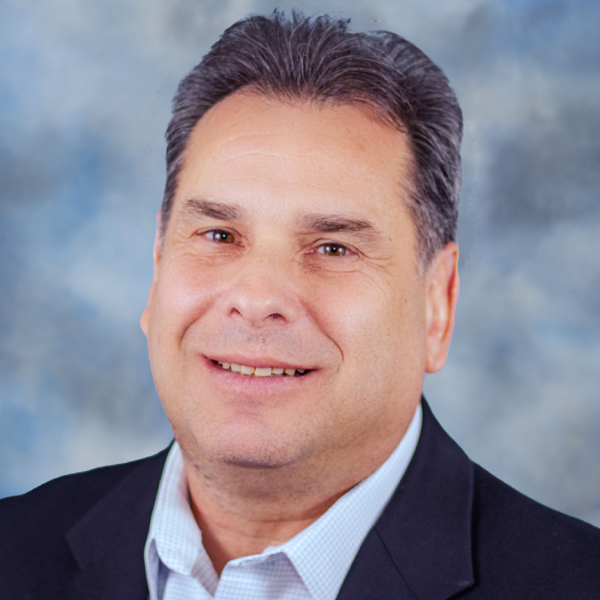 Brad Kuvin
Swiss-Built Waterjet Machine Lands in Louisiana
August 1, 2012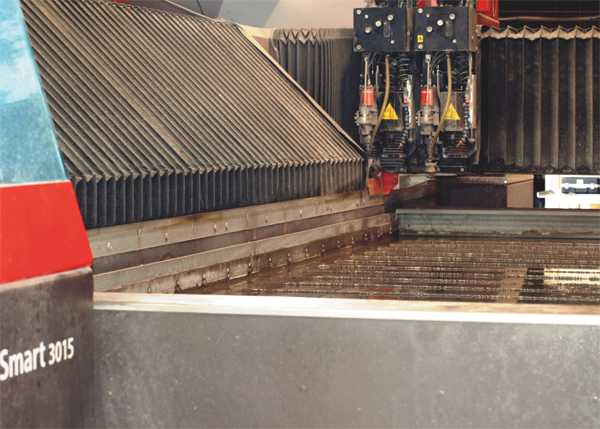 Alliance's waterjet machine powers two cutting heads. Some 20 percent of its waterjet work would typically be done in the machine shop, with the rest being flat-plate cutting. Maximum workpiece weight, per Bystronic specs, is 790 kg/m2; maximum plate size is 3 by 1.5 m.
We first spied the Bystronic ByJet Smart waterjet-cutting machine when it made its North American debut at Fabtech last November in Chicago. Touted as an economically priced, compact yet high-end machine, the ByJet Smart quickly made its into the U.S. metal-fabricating market place. Within just three months of Fabtech, the first ByJet Smart installation occurred, at, of all places, a laser-cutting job shop.
Why did Alliance Laser, a contract laser-cutting company located deep in the heart of the Bayou just across Lake Pontchartrain from New Orleans, decide to expand into waterjet cutting? We asked company president Duane Stimens.
"When my partner and I launched Alliance Laser in 1999, we started with a 3.5-kW 5- by 10-ft. laser-cutting machine (also a Bystronic), then added in 2004 a 5.2-kW laser machine," Stimens explains. "That moved us into plate production, with capacity in steel to 1 in. Early in 2011 we decided to add machining to our resume by adding CNC machines and began to subcontract waterjet cutting to local shops. Once we identified the opportunities for waterjet work in this area—heavy plate cutting, machining and even nonmetallic work—we believed we could easily justify bringing waterjet cutting inhouse by investing in the ByJet."
Taking on Fabrication and Machine-Shop Work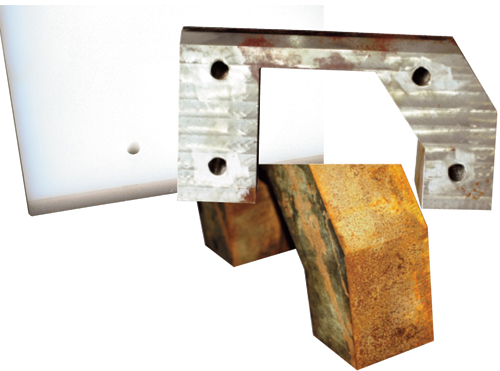 Alliance Laser employs its new waterjet-cutting machine to cut a variety of materials, including UHMW-PE (left), heavy-gauge carbon and stainless steel, and aluminum.
Since Alliance Laser installed its waterjet-cutting machine in January 2012, some 85 percent of its cutting time has been devoted to metallic work. It's cutting a variety of components, in lot quantities of one to 1000.
"For example, we're running heavy aluminum parts to 11⁄4 in. thick," says Stimens, "for a builder of pan-and-tilt systems used in antenna array and satellite dish systems. Here we're making profile cuts to save on machining time on our CNC machines—we can profile the thick parts on the waterjet, and then send the parts to the machine shop for internal machining."
Alliance's waterjet machine powers two cutting heads. Some 20 percent of its waterjet work would typically be done in the machine shop, Stimens says, with the rest being flat-plate cutting. "In January, in conjunction with bringing waterjet cutting inhouse as a core competency," he says, "we began to take in a lot more work from one of our customers, Textron Marine and Land, requiring us to cut heavy steel plate (2.5 to 3 in. thick) for parts that go into its armored security vehicles (ASVs). We can't cut that material on our lasers…waterjet is the to go."
Maintenance Tasks to Keep the Water Flowing


Information provided by Frank Arteaga, head of product marketing, Bystronic Inc.

Fabricators operating waterjet-cutting machines should follow a prescribed set of maintenance tasks, regardless of the machine manufacturer. Let's first look at the water source, which must be nearly free of heavy metals and minerals that can damage the high-pressure pump. Therefore, most cutting systems include in-line filtration added just prior to the pump inlet. Depending on the quality of the water source, fabricators will need to check these filters weekly or monthly.

Once the water reaches the high-pressure pump, it is pressurized to levels typically above 50,000 PSI. Operating at such a high pressure begs the fabricator to periodically inspect the system's high-pressure seals and check valves. This typically is recommended at intervals ranging from 300 to 2000 hr., depending on the materials used for the seals and the pressure generated in the pump. Higher pressures will tend to shorten seal and check-valve life; metallic-based seals generally last longer than nonmetallic.

Once the water is pressurized, it is delivered to the cutting head through a high-pressure stainless-steel delivery line. Fabricators should visually inspect this line daily for leaks at connection points. At the end of the delivery line, water will enter the cutting head and be focused into a smaller stream of water, typically via a series of reducing components that ends with the water being pushed through a small orifice (0.010-0.015 in.), typically made from a sapphire or diamond.

As the thin stream of high-pressure water travels through the cutting head's mixing chamber, abrasive sand (typically garnet) is introduced into the water stream. The water and abrasive then are fired through an abrasive nozzle, typically 0.030- to 0.040-in. dia., used to focus this high-velocity abrasive water stream down to the workpiece. The mixing chamber and abrasive nozzle typically experience a shorter replacement interval compared to other system components, due to the erosive nature of the high-pressure water mixed with the abrasive garnet. Typically these components will need to be replaced every 100 hr. or so. Component life will be shorter for those applications using higher pressures or more abrasive grit.

As the abrasive water stream contacts the workpiece, it erodes the material, which then is collected into the catch tank below. There are several s to remove this waste stream of water, abrasive material and eroded material. In automated setups we find closed-loop recycling systems that filter and recondition the water for reuse in the high-pressure pump. Fabricators also can use separators that will remove the abrasive sludge from the water tank and deposit it into a container where it can either be disposed of or separated for further use.

Additional maintenance tasks include greasing mechanical-system components such as motion systems, and performing oil changes on motors and pumps as required by the manufacturer.
UHMW Cutting Opens Doors
If 85 percent of its waterjet work is cutting metal alloys, what's the rest?
"Processing UHMW-PE (ultrahigh molecular-weight polyethylene) parts has become a big part of our waterjet-cutting business," shares Stimens. Cutting UHMW on CNC machines can prove challenging, according to articles on the subject uncovered on the website of Plastics Magazine. "UHMW-PE can rapidly dull tool cutting edges," says one article, "causing part distortion…and attempts to improve poor finishes by filing or sanding will generally result in worsening the appearance." Thus it would seem waterjet cutting would provide an ideal solution to processing thick UHMW, and Stimens concurs.
"In fact, one of our best laser customers, Laitram Machinery, a local manufacturer of shrimp-peeling machines and other food-processing equipment, came to us to cut 11⁄4-in. UHMW-PE on our waterjet machine," says Stimens. "Laitram runs its own laser-cutting machines inhouse, but once they saw what we could do with our lasers, particularly the newest high-power laser, they began to outsource their overflow laser-cutting work to us."