"This was by far our most challenging project ever," says Tanner. "With eight employees, we're not a huge firm. While there were slight interruptions for existing-customer jobs, for the most part we ran three shifts around the clock, for about 600 hr. of nearly continuous cutting over a 6-month period."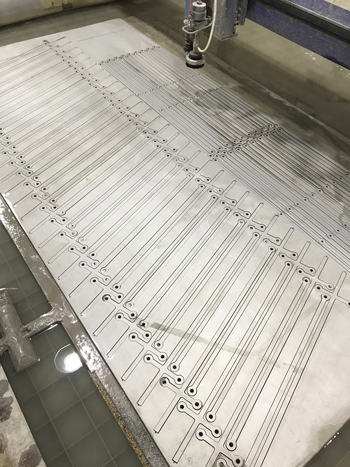 The shape of the parts for the Tintagel Castle Bridge—such as these cross bars—lent themselves to a tight nest for optimizing use of the materials, resulting in virtually no wasted materials.
Why Waterjet Cutting?
Why choose waterjet cutting over other cutting technologies? Jeff Day, applications engineer at WardJet, answers this and other related questions.
MetalForming: What are the advantages of waterjet over other cutting technologies, such as laser? Are there limitations?
Day: For starters, a waterjet cuts thicker in most materials and virtually no heat input means no heat-affected zones. Precise cut quality makes possible small holes, requiring little to no rework.
MetalForming: What types of metals are cut using a waterjet and are there size limitations?
Day: The garnet abrasive, mixed into the waterjet stream, enables an erosion process to occur. The harder and thicker the material, the slower the travel speed to allow the garnet enough time to erode the material. The only material the waterjet cannot cut is tempered glass, though chemically tempered glass can be cut via a waterjet.
MetalForming: What are some equipment and feature options?
Day: We have a range of machines, from 2 by 4-ft. to 16 by 50-ft. footprints and with multiple cutting heads. The machines offer as much as 60 in. of Z-axis travel and five-axis heads capable of cutting holes in the hulls of submarine. Machines are available as either water-only systems (for soft nonmetal materials), or abrasive, or combination. Options include multiple cutting heads, larger pumps and automated systems for loading/unloading, marking, printing, etc. We help customers figure out how they might fixture a part for complex five-axis cuts. Several will trim the flashing off of pressed or formed parts. Also, besides creating the tool path to cut the part, our Igems software can help to model a fixture to support the part.
MetalForming: When are retrofits a good option?
Day: If a machine is mechanically sound, a controller retrofit can update a machine with respect to software and support. Also, companies sometimes retrofit by adding improvements such as five-axis heads to their machines as their business evolves.
MetalForming: What else would you like our readers to know about waterjet cutting?
Day: Waterjet cutting produces less of a negative environmental impact than other technologies. As an inert substance, the garnet abrasive usually is landfilled after going through appropriate testing by waste haulers. When cutting hazardous materials (lead or beryllium), closed-loop water filtration systems can be installed to keep these materials from going down the drain. Moreover, the ability to nest parts closely helps reduce scrap as does cutting parts on a just-in-time basis.
See also: WardJet, Inc.
Technologies: Cutting