Working with architectural materials that are made to be seen, discoloration and other problems associated with heat-affected zones via heat cutting are a huge no-no. With the intention of dipping its toes into the waters of waterjet cutting, the division found that the technology offered real advantages in cut quality and appearance, and in productivity.
"Since its purchase and over its lifecycle, we have realized that this is a very valuable piece of equipment for us," says Gawne. "It's made us countless dollars and definitely positioned us as an industry leader—we were one of only two companies in Maryland that had this waterjet cutting capability at the time."
New Machine Needed to Handle Increasing Workload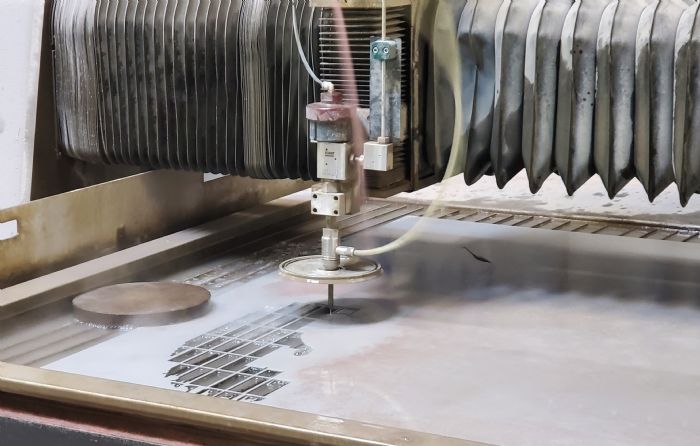 By 2020, Stromberg management felt that the company had maximized production on the machine, which it had by now been running basically around the clock and was requiring additional maintenance. After exploring laser cutting as an alternative, the team sought to invest in a waterjet cutting machine with increased cutting speed and the ability to handle increasing production demands.
Enter the MultiCam 3000-series machine, installed at Stromberg's Specialty and Architectural Division location in mid-2020. The machine features a 5 by 12-ft. working area, single abrasive head, 500-lb. abrasive hopper and a closed-loop chiller that recycles water used to cool the KMT Streamline Pro-III 60-hp intensifier. MultiCam's Coreo software runs the machine.
Able to pressurize cutting water to 90,000 psi, the intensifier enables a significant increase in waterjet-cutting production as compared to the older machine.
"We loved the old waterjet cutting machine and knew how to use it," Gawne recalls, commenting on the decision to upgrade the technology. "We deemed that the 3000-series waterjet with its high-psi intensifier provided a better return on investment for us than a laser cutting machine. It offered the same performance standard, occupied half of the footprint, and even with an energy rebate with the laser, we had already reached our electricity-load capability for this facility and that would have put us over the top. So, we chose to stay with waterjet cutting."
Cut Time Cut in Half
Fast-forward a year, and how does the new machine stack up?
"We've reduced our standard cutting time by 50 percent," Gawne offers, while noting that Stromberg possesses what he believes to be the only 90,000-psi machine in Maryland.
Bringing the power of 90,000 psi enables significant time savings, along with less abrasive usage, note KMT officials. And, as noted by MultiCam officials, a higher pressure cut—in this case from a 55,000-psi machine to a 90,000-psi machine, reduces cut angularity, meaning straighter cuts through the material thickness. Seeing is believing, and a KMT video (tinyurl.com/cmh8tp6f) offers up proof of the new machine's advantages, comparing cutting speed of 60,000 vs. 90,000 psi on 2-in.-thick aluminum. While the waterjet cutting machine at Stromberg doesn't process materials as thick (for that the company employs plasma cutting technology also supplied by MultiCam), the results are no less impressive. Besides using waterjet cutting to process sheet metal, the machine also cuts plastics, stone and wood, which speaks to the flexibility of waterjet cutting as a process. This provides a huge advantage in ornamental architecture work where a variety of materials may be needed to complete projects.
Bigger Table Allows Bigger-Part Processing
Besides speed, Stromberg also benefits from the machine's large work area.
"We increased the bed size on our new machine—5 by 12 ft. as compared to 4 by 10 ft. on our old waterjet cutter," says Gawne. "That means using larger sheets, which has a domino effect. If we can cut 12-ft. material, we need the ability to process it in our press brakes. We'll be buying a 12-ft. press brake next, but in the meantime we still can process this length on our two 10-ft. press brakes, where we effectively can brake to 12 ft. Adding a 12-ft. brake will allow processing to 14 ft."
Obviously, Stromberg must stock larger 5 by 12-ft. sheet, so the company designed and built a storage rack "to feed this monster," Gawne says. "With the volume increase provided by our waterjet cutting machine, we need material stores, so we've increased our material-storage capability."
That's a good thing, too, as the waterjet cutting machine makes quick work of the stock, and allows Stromberg to free labor for other tasks.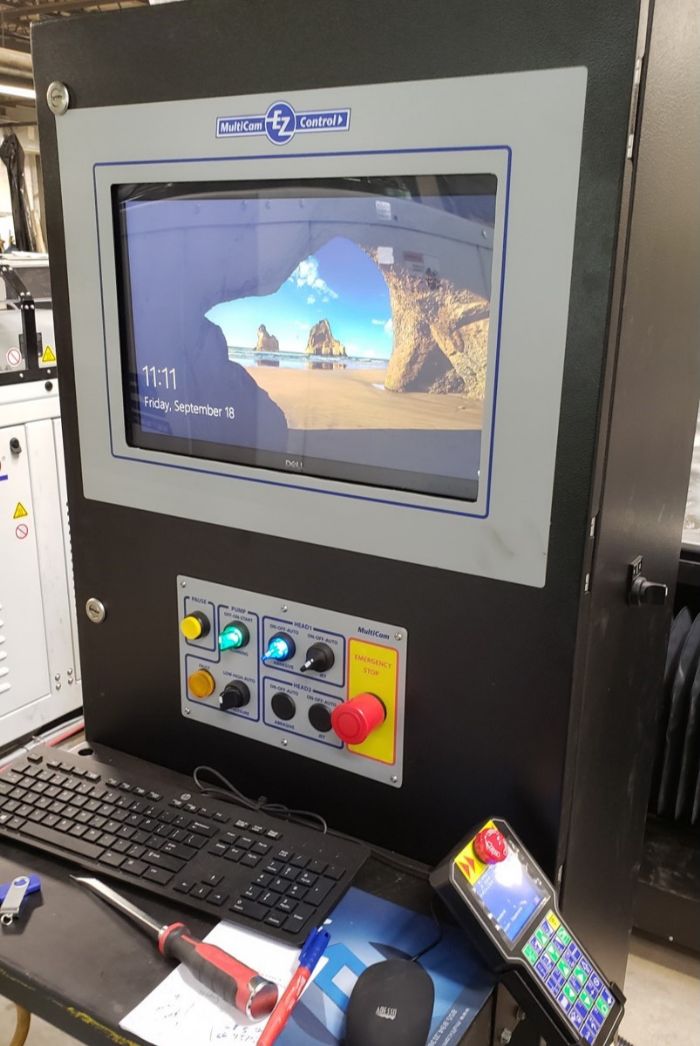 "This machine provides huge labor savings," explains Gawne. "With the larger bed, we can fabricate elevator jambs (the metal panels that surround elevator openings) to 12 ft. long, whereas before we maxed out at 10 ft. Before, to do that we had to make two separate cuts and then weld the panels together and polish the seam. Welding a 12-in. seam takes about an hour, and polishing about another hour. So, we save 2 hr. in labor just to fabricate one jamb."
Again, ornamental work must be seen, so in this case, a single 12-ft. jamb piece can look better, too. And, single pieces mean less material handling and easier tracking. With elevator jambs typically of stainless steel, matching the grain of two separate pieces becomes a chore.
"When using the older waterjet cutting machine and having to blend two pieces together," recalls Gawne, "we had to hand polish to blend the grain, and bought a small graining machine that helped somewhat. We've cut that punch-list item out of the equation. And, we now stock larger material lengths, which reduces the amount of truck orders and deliveries."
In addition, the ability to use a single longer sheet means reducing the handling and time required to load and unload two sheets.
"Every time that cutting head stops (in this case, for sheet changeout), we lose 5 to 10 min. of productivity," Gawne says.
Another plus with the larger-bed machine: Its footprint orientation on Stromberg's shop floor, and its bridge residing parallel to the 12-ft. axis, enables easier aisle access for forklifts and other material-handling chores related to the waterjet cutting machine as well as adjacent graining and plasma cutting machines. And, Stromberg received a wealth of assistance from MultiCam and KMT Waterjet to navigate the learning curve on the new machine, Gawne reports.
Control Hardware and Software Adds to Productivity
Helpful in bringing the division up to speed and keeping it there is the machine control, which allows operators right at the machine to pause the process for cutting-parameter corrections and refinements, instead of traveling back to the office to access the main computer control.
Like all MultiCam 3000-series machines, this one includes an integrated PC with the latest operating system and quick access to MultiCam's Coreo Suite software at the machine, as described above. The intuitive software provides built-in nesting, according to MultiCam officials, as well as a library of pre-made-part instructions. Also, users can tie the software to any traditional CAD/CAM program to directly download files . Users also can combine multiple drawings into a job, with the software nesting everything to provide full sheet and machine utilization.
Prior to obtaining the MultiCam 3000, Stromberg had four employees trained on waterjet operation. Since then, two more employees have been trained, which Gawne attributes to the ease of programming and operating the new machine.
"But, due to our increased work volume, we've had to move some of those operators to field installs or other fabrication areas," says Gawne. "As a result, we've added a couple apprentices for waterjet operation, and they've picked it up flawlessly."
Less Downtime Plus a Great Recruiting Tool
Gawne reveals that Stromberg is in the process of ramping up a full preventive-maintenance effort, but already notes a difference in the need for abrasive resupply and abrasive-tank cleaning, and a reduction in water consumption due to the closed-loop water system.
"We've been able to reduce our supply of garnet—replacing it only once through the first half of the year while operating the machine at about 75-percent capacity," Gawne says. "The same time last year, with our older waterjet cutting machine, we would have been on our third garnet resupply and tank cleaning. Less garnet, less cleaning, less water usage—that all means less downtime."
Adding to machine health and uptime: Preventive-maintenance monitoring via the KMT intensifier-pump filter alerted Gawne to a hard-water issue at Stromberg, keeping the company diligent in filter replacement.
One more advantage to acquiring the new waterjet cutting machine proves unquantifiable, but offers hope for a bright manufacturing future in North America. When young people hear about duct work, as Gawne explains, the thought of it as a career option doesn't bring a sparkle to their eyes.
"But, when I identify waterjet cutting and its capabilities, this technology makes them think of sheet metal work in a totally different perspective," he says. "Not only do we use it as a recruiting tool, but in general it brings popularity to the sheet metal-work trade." MF
Industry-Related Terms:
Abrasive
,
Bed
,
Brass
,
Case
,
Color
,
Discoloration
,
Download
,
Hardware
,
LASER
,
NC
,
Nesting
,
Polishing
,
Stainless Steel
,
Thickness
View Glossary of Metalforming Terms
See also: KMT Waterjet Systems
Technologies: Cutting