Full Range of Waterjet Machines
October 1, 2019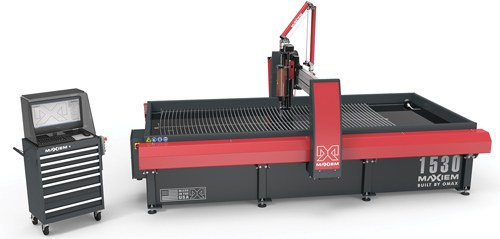 Omax Corp.
Booth A5731
Omax demonstrates the power of abrasive waterjets on four different machine models: an Omax 80X with Tilt-A-Jet technology; a Maxiem 1530 with an A-Jet articulated cutting head (shown); a GlobalMax 1508; and the personal ProtoMax.
The Tilt-A-Jet's advanced automated taper compensation attains virtually zero taper for the precise cutting of parts with square, taper-free edges, including interlocking pieces and dovetail fittings, all while maintaining extremely high cutting rates. The A-Jet cutting head cuts accurate beveled edges, angled sides and countersinks.
The value-oriented GlobalMax 1508, with an 0.8 by 1.5-m cutting-bed size, performs X-Y-axis cutting with three degrees of freedom and features several compatible accessories, including a terrain follower, a pneumatic drill and bulk-garnet feed hopper.

See also: Omax Corporation
Technologies: Cutting