Five-Axis Waterjet-Cutting System Cuts Taper-Free, and Bevels
January 1, 2014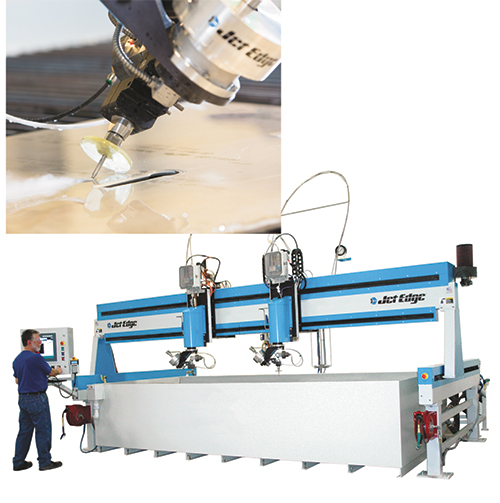 Waterjet-system manufacturer Jet Edge, Inc., St. Michael, MN, introduces the Edge X-5 five-axis waterjet system that cuts complex, taper-free and 3D parts from virtually any material. Featuring the firm's Permalign Edge technology, the machine can cut chamfers, weld bevels and sophisticated 3D parts such as impeller blades.
The Edge X-5 features an industrial PC controller designed specifically for five-axis waterjet cutting. The AquaVision Di Controller's open-architecture design gives operators the freedom to fine-tune programs from any CAD/CAM/nesting software, using standard G&M CNC code. Its Intelligent Work Envelope automatically adjusts depending on the angle of the cut to protect the operator, material and system components.
The Edge X-5, ballscrew-driven for optimal precision, features direct-couple AC brushless digital servo motors, single or double carriages, and cutting-table size from 5 by 5 to 24 by 13 ft.
Jet Edge, Inc.: 763/497-8700;
www.jetedge.com
See also: Jet Edge Waterjet Systems
Technologies: Cutting