A Trio of Waterjet-Cutting Demonstrations
October 1, 2014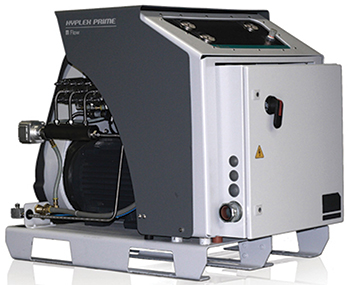 Flow International Corp.
Booth B3925
Flow International will run live demonstrations of three precision waterjet-cutting systems at FABTECH, showcasing its Mach 3b and Mach 2c machines. Flow will equip a Mach 3 machine with its HyperJet pump, rated at 94,000 PSI, and its Dynamic Waterjet technology with Active Tolerance Control, along with FlowMaster software specifically designed for waterjet cutting.
The Mach 2c is a value-priced machine tool optimized for either pure or abrasive-waterjet cutting. Whether cutting 3-in.-thick steel plate or multistacked gasket material, the Mach 2c provides fast and accurate cutting at an exceptional price. At FABTECH, the Mach 2c will be shown with the new HyPlex Prime pump (shown), which has a highly modular design that allows customized pump performance at a low production-level price. www.flowwaterjet.com
See also: Flow International Corp.
Technologies: Cutting, Fabrication