3D Waterjet Cutting with Endlessly Rotating Cutting Head
September 1, 2014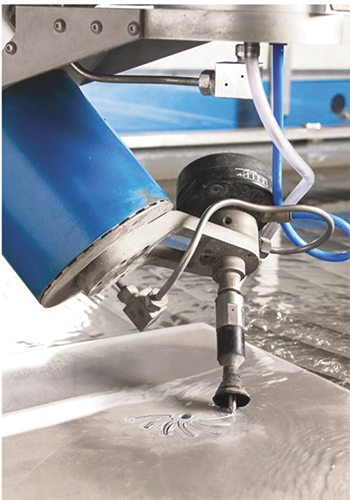 Hydro-Jet waterjet cutting systems from Knuth, Lincolnshire, IL, now can be optionally equipped with a five-axis cutting head. The cutting head is based on the design principle of the Nutator—the two axes of rotation are at a 45-deg. angle to each other: When the cutting head rotates around the Z axis, rotational movements of the cutting head do not cause a change in tool position. The advantage: for a change of waterjet direction, no compensatory movements of the linear x-y-z axes are required. A special rotary element allows a continuous feed of the abrasive sand.
Maximum angle of inclination: + 51 deg. And, the cutting head provides advantages for 2D cutting: Taper compensation is automatically calculated, increasing system efficiency.
Knuth Machine Tools USA, Inc.: 847/415-3333;
www.knuth-usa.com
See also: Knuth Machine Tools USA, Inc.
Technologies: Cutting