Saws, Ironworkers, Pipe Notcher/Grinder
October 2, 2019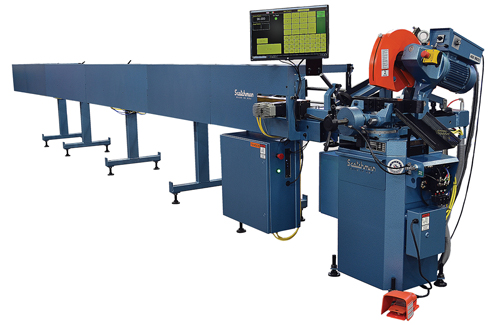 Scotchman Industries provides live demonstrations of its new CPO 350 AutoLoader (pictured), a fully automatic sawing system designed to save time, reduce scrap and eliminate mistakes. Scotchman has taken the semi-automatic CPO 350 PKPD saw and added an auto-loading system, creating new system that cuts multiple lengths of tube in diameters to 3 in.
The saw comes standard with a Windows-based touchscreen control, 5-hp variable-speed motor, 315-mm-dia. blade and the ability to run unlimited cut lists in lengths from 0.5 to 23 in. Run a complete cut list or run of cut lists at 90 deg. on an automatic cycle, or switch to operate the saw in a semi-automatic cycle to miter cut. Rapid setup, automatic part-length change and fast reloading of material adds efficiency.
Scotchman also showcases its 50-ton ironworkers: models 50514-EC and 5014-ET. Couple the equipment with the RazorGage digital length-positioning system, where the RG Digital Quick-Stop accurately positions material to the exact length in the ironworker. Using 50 tons of hydraulic pressure, the ironworkers can punch a 1.25-in.-dia. hole in 0.5-in.-thick plate and a 13⁄16-in.-dia. hole in a 0.75-in.-thick plate. The 50514-EC has a single punch station and the 5014-ET offers a three-station revolving turret punch station.
And, the company introduces its AL150 HS high-speed abrasive grinder/notcher, which includes a grinding belt and pipe grinder. This new machine creates notches in seconds and is 40-percent faster than the original AL150, according to Scotchman officials.

See also: Scotchman Industries, Inc.
Technologies: Cutting