Case History: High-Performance Bandsaw Halves Cutting Times
June 1, 2018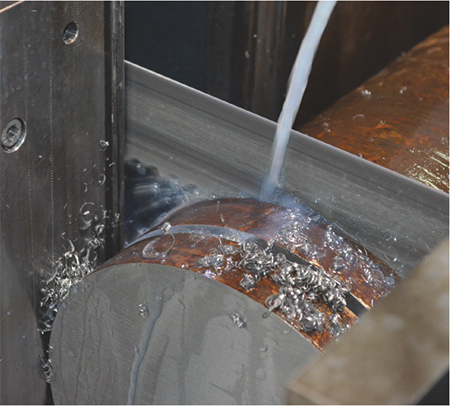 A difficult-to-machine, highly tempered steel for a medical application presented a major challenge to Werner Weitner, a German special-tool and workshop-equipment manufacturer. With cutting times as long as 15 min., the sawing process was protracted and unproductive. By adding the new KastoWin Pro AC 5.6 high-performance bandsaw from Kasto (with U.S.-based Kasto, Inc. located in Export, PA), the company was able to halve its processing times, thus making its production considerably more efficient.
Werner Weitner has an extensive range of modern machinery, with materials processed consisting mainly of steels, but also aluminum and plastics. These materials are destined for prototypes as well as short-run to high-volume parts. The company, a longtime user of Kasto sawing equipment, contacted Kasto with this latest challenge, and undertook cutting trials to assess the proposed solution.
"We had to process a highly tempered V2A steel (a Cr-Ni rustproof grade) over a large diameter range for a medical-engineering customer," reports Florian Winhard, sawmill departmental manager at Werner Weitner. "With the existing machines, cutting times were as long as 15 min., which we felt was an unsatisfactory outcome."
Werner Weitner sent a material sample to Kasto for cutting trials on different saws. The results obtained on the newly developed bandsaw were particularly impressive.
This fully automatic bandsaw is designed for varied applications, and has been optimized for use with bimetallic and carbide blades. In tests for Werner Weitner, the bandsaw achieved maximum cutting times of 7 to 8 min., half as long as with Werner Weitner's existing equipment.
The saw has been in operation at Werner Weitner since March 2017.
"A major advantage for us is that we can switch between carbide and cheaper high-strength-steel blades at any time," says Winhard.
An innovative feed system, which can be adjusted steplessly and with high precision by means of two ball-screw spindles, each with a servo drive, ensures optimum performance. The KastoWin Pro AC 5.6 also has a retraction unit on each side for lifting the band from the surface when the saw head moves back. This makes for particularly efficient, exact sawing with minimal tool wear, according to Kasto officials.