Automated Program for 90-Deg. Cuts on Scotchman Circular-Sawing System
February 2, 2021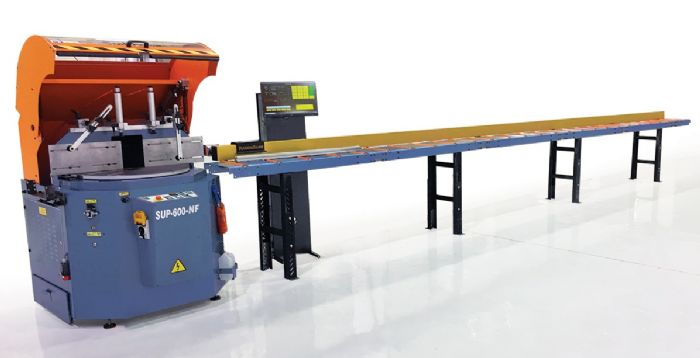 With the addition of an optional Auto-90 program feature, the Scotchman SUP-600 NF AngleMaster upcut circular cold saw runs completely automatically for 90-deg. cuts. The system feeds materials, makes 90-deg. cuts continuously, and is ideal for door and window, façade, and other cutting applications using high-volume nonferrous materials that require 90-deg. cuts.
The SUP-600 NF AngleMaster upcut circular cold saw is designed specifically for cutting nonferrous materials such as aluminum, copper, PVC and wood. Featuring a 24-in., 132-tooth carbide blade that is capable of producing round cuts 8 in. dia. and rectangular cuts to 9 by 5 in. at 90 deg., the SUP-600 NF offers an increased cutting capacity not found in traditional pivot saws, according to company officials.
This upcut saw, coupled with the Scotchman AngleMaster digital material-positioning system, yields a semi-automatic programmable saw system that automatically rotates to any cut angle, pushes material into the saw and automatically rotates to the next desired angle.
Standard features include a 21in. touchscreen control that can store an unlimited cuts list, adjustable feed rate with mitering degree range of 22 to 159 deg.; two horizontal and two vertical pneumatic clamps to secure the material being cut; and a 4.5-in. port for chip collection as well as a drawer under the bottom of the saw.
The SUP-600 NF is available in 230- and 460-V configurations.
See also: Scotchman Industries, Inc.
Technologies: Cutting