Single-Piece Cartridge Consumable for New Air-Plasma Series
September 14, 2021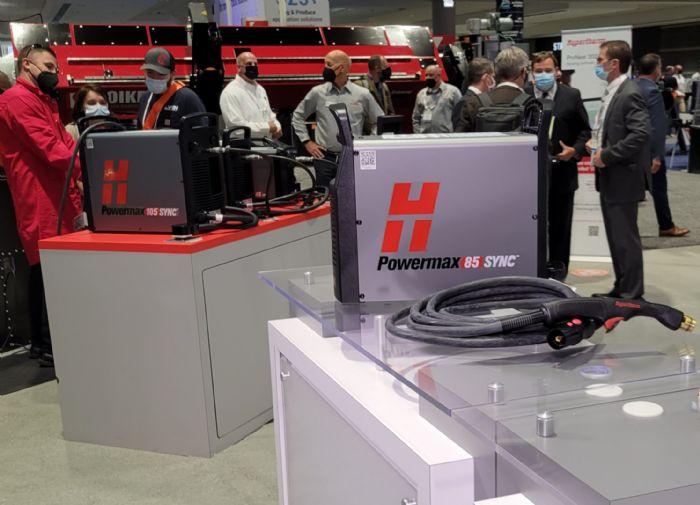 At FABTECH…Hypertherm unveiled its Powermax Sync series of handheld air-plasma systems, including a unique single-piece cartridge consumable. The Powermax65/85/105 systems feature built-in intelligence, with the series and its SmartSync torch replacing the traditional five-piece consumable stack with a single color-coded cartridge. Technology embedded in each cartridge automatically sets the correct amperage, air pressure and operating mode, according to Hypertherm officials, and informs operators when a new cartridge is needed. Additionally, SmartSync torch controls allow operators to adjust the amperage and change the cartridge without returning to the power supply.
The single-piece cartridge for Powermax systems reportedly lasts as much as twice as long and delivers cleaner cuts versus traditional consumables. The cartridge also can track data, such as starts and arc-on time, to identify trends and add efficiency to a user's operation.
"The Powermax Sync series' simplified operation serves to help fabricators address many of the toughest challenges they face today by eliminating operator errors, downtime, troubleshooting, waste and training time," says Erik Brine, general manager of Hypertherm's Powermax team, while noting that these system attributes help address skilled-labor shortages.
To provide for users of previous technology, Hypertherm engineers have developed an adapter for Duramax and Duramax Lock torches, enabling owners of the Powermax45 XP and Powermax65/85/105 to enjoy some benefits of the cartridge-consumable platform, such as faster change-outs, easier ordering and inventory tracking, longer life, and improved cut quality.