Precision Cutting Equipment
October 2, 2019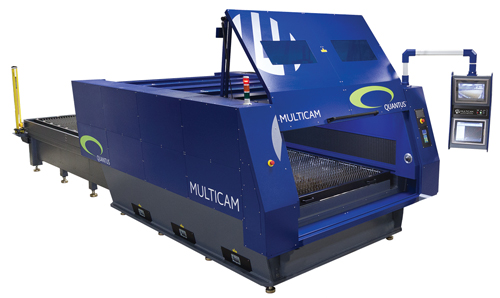 Multicam
Booth A4501
MultiCam shows its V-Series plasma and Quantus fiber laser offerings. Equipped with dual motor-driven gantries for maintaining square cuts, the V-Series extruded aluminum tables have integrated V-rails with datum for the gear rack, ensuring proper engagement of the motor transmission in relation to the bearing of all three moving axes. Machined cast aluminum uprights hold the gantry parallel to the cutting table. Table options allow for sizing the table and cutting based on material needed to cut. Model configurations range from 50 in. by 50 in. to 79 in. by 120 in., with plasma units as low as 45 to 125 A.
Designed to eliminate the need for post processing of parts, Quantus fiber lasers contribute to high throughput. Optional automated shuttle-table changers move material in and out of the cutting area in 20 sec. or less while a light curtain monitors the exposed area around the shuttle table. Dual monitors enable the operator to view cutting inside the cut area on one screen while programming jobs on the other. Live status reports, wireless connectivity of the cutting head, and remote access helps to minimize downtime.

See also: MultiCam Inc.
Technologies: Cutting