Portable Plasma Cutting System Provides Power Push
February 25, 2021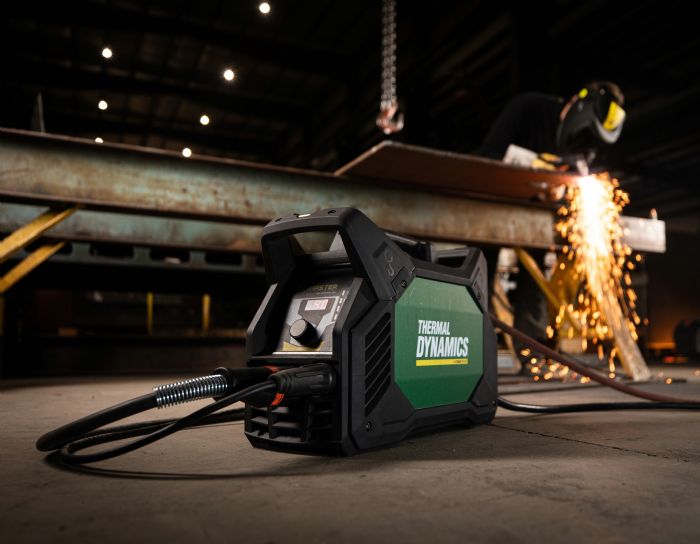 Thermal Dynamics, an Esab brand, has launched the Cutmaster 40 manual plasma cutting system, successor to the Cutmaster 42. The power source, weighing 22 lb., can use 115- or 230-V primary power and delivers a rated output of 40 A at 40-percent duty-cycle or better.
On 230-V primary power, it delivers a recommended cut and pierce capacity on 0.5-in.-thick steel and can sever steel to 1 in. thick. On 115-V primary power, it delivers a recommended cut and pierce on 3/8-in.-thick steel. To use 115-V power, simply connect the supplied 115-V adapter to the hardwired 230-V plug. The unit is designed for motor sports, mobile fabrication, light construction, HVAC, metal/building/roofing, mechanical contracting, maintenance/repair, farm/ranch, metal art and DIY applications.
The Cutmaster 40 features a weather-proof, three-handle case for unit protection, with the handles enabling easier movement in tight quarters and allowing for better cable placement and organization. The unit comes with an SL60 1Torch with 16-ft. torch lead—a longer lead than competitive torches, according to Esab officials. Because it employs Thermal Dynamic's ATC torch connection as standard on all Cutmaster units, users can connect an additional 25 ft. of torch lead or the SL60QD 1Torch, which offers a quick-disconnect feature enabling selective replacement of either the torch-handle assembly or torch leads. The work cable uses a standard 50-mm Dinse connection, while the work clamp creates a strong electrical connection.
The SL60 1Torch comes with Cutmaster Black-series electrodes, which reportedly extend operating life by as much as 60 percent.
See also: ESAB Welding & Cutting
Technologies: Cutting