New Plasma-Cutting Torch Shapes and Materials Increase Thickness Range
September 1, 2011
A group of engineers and product managers at Hypertherm, Hanover, NH, a manufacturer of plasma-arc-cutting (PAC) equipment, logged hundreds of hours on the road, talking to numerous customers during visits to scrap yards, ship yards and other high-use cutting environments, determined to rethink cutting-torch design. After a year of field study, the engineers decided to focus on three areas to optimize torch design:
• Improve robustness;
• Optimize handle ergonomics, while also improving gouging and cutting access for tight locations; and
• Develop a shorter torch for robotic and pipe-cutting applications.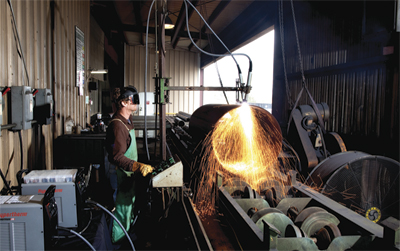 The engineers spent two years prototyping torches and conducting heat, impact and cut tests. With testing complete, they then set out to find the right type of plastic for the torch body, and a shape ideal for gouging and cutting in tight places. Traditionally, torch shape has been limited by the need for an internal plunger to bring the electrode in contact with the nozzle and initiate the arc. The plunger, and the wires attached to it, needed room to move within the torch shell, restricting the choice of shapes and angles.
The solution was found by working inside out, first developing an entirely new consumable design that replaced the plunger in the torch with a blowback spring in the electrode. This technology, dubbed Spring Start, enabled Hypertherm to design a nearly straight torch that angles down just 15 deg. at the tip. This allowed engineers to narrow the neck of the standard hand torch for greater visibility, and to change the shape so that it could be held at either a 75- or 90-deg. angle to the workpiece.
Lastly, engineers went to work developing a mechanized torch with the same level of innovation and flexibility. Their solution was to replace the one-piece mechanized barrel with a modular design that allows users to work with the standard 15-in. torch, or to remove a section from the barrel to create a 6-in. mini torch better suited for robotic applications.
Hypertherm, Inc.: 603/643-3441; www.hypertherm.com
See also: Hypertherm, Inc.
Technologies: Cutting