In addition, some 50 percent of the plasma-cutting work completed on the accu-kut features a beveled edge for weld prep. Here's where Kerstetter's homework on PAC technology has really paid off, by opting to include Hypertherm's True Bevel technology. True Bevel automates cutter-path and parameter programming (such as gas type and pressure) based on the desired bevel profile. It reduces or eliminates trial-and-error time, increasing productivity and minimizing waste.
"We used to spend as much as 2 hr. setting up our oxyfuel table for beveling," says Kerstetter. "That process has completely disappeared. And, edge quality is weld-ready—we take parts right from the accu-kut to the weld booths, with no secondary edge grinding needed."
True Bevel serves as a perfect complement to another Hypertherm development—True Hole technology, also used profusely in the Schramm fab shop. True Hole, according to Hypertherm, automatically adjusts several parameters to optimize hole circularity and edge finish based on material type and thickness and hole diameter. Those critical parameters: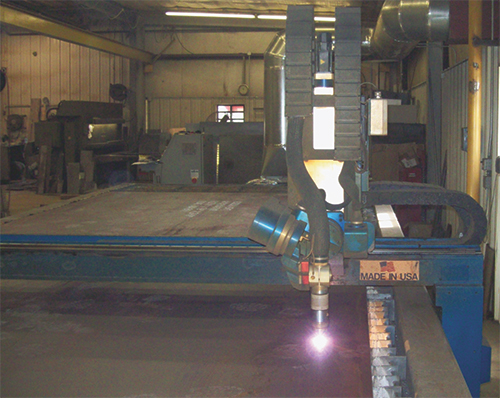 This 8.5- by 25-.ft. PAC machine landed on the Curtis Welding shop floor in March 2012, after owner Curt Renaud researched the technology at the Fabtech 2011 tradeshow in Chicago. It allows the shop to work with 8- by 20-ft. plates and avoid weld-splicing smaller sections, saving hundreds of hours of production time while improving accuracy.
• Process gas type
• Gas flow
• Amperage
• Piercing technique
• Lead-in and lead-out technique
• Cutting speed
• Timing
"We must have as close to perfectly round bolt holes as possible," stresses Kerstetter, "to ensure nice, tight fitup in the field. Our rigs drill to a depth of up to 15,000 ft., and can experience a lot of vibration. Bolts cannot rattle loose."
Last but not least, Kerstetter pours praise on the ability of the PAC system to etch parts with identification tags and other messages—often safety-related phrases for rig operators to heed. To etch with the accu-kut, the machine operator quickly switches out the machine's 400-A cutting head with a 130-A head. (Hypertherm literature says that its system can changeover from cutting with oxygen to marking with argon in 2.4 sec.)
Summarizing the impact made on his shop by the accu-kut/Hypertherm combo, Kerstetter notes that "with our old burn table, we were als two weeks behind. Now we're never behind —never. In one 8-hr. shift we can run as much production that used to require two weeks of two-shift operation. The machine paid for itself in less than one year."
Is there an Echo in Here?
Curt Renaud, namesake of Curtis Welding, Atlantic, IA, begins our discussion by echoing Kerstetter's comments related to etching with his new accu-kut/Hypertherm PAC setup. "I couldn't imagine buying a plasma machine without the ability to etch," says Renaud.
Renaud's fab-and-weld shop employs 10, having more than doubled in size since 2004. He's expanded the shop several times in recent years, to keep up with increased demand from large customers in the wastewater, precast concrete and wind-tower industries. That's quite an impressive customer list compared to the local repair gigs he cut his teeth on when he launched the firm in 1990, in a 50- by 50-ft. rented building. Today, Curtis Welding calls a 13,500-sq.-ft. shop home, outfitted with a 250-ton 14-ft. press brake, 120-ton ironworker, a vertical saw, 7.5-ton overhead crane, a bevy of welding equipment and its new 8.5- by 25-ft. accu-kut/Hypertherm PAC machine.
Renaud runs mostly ¼-in. mild-steel plate (extending to 2 in. in some cases) and 24-gauge stainless steel through his accu-kut. The machine landed on his shop floor in March 2012 after he researched the technology at the Fabtech 2011 tradeshow in Chicago. Before then, plate cutting, weld prep and holemaking occurred on a 2008-vintage 6- by 12-ft. plasma-cutting table Renaud calls "entry level." It replaced an old oxyfuel-cutting table, "and brought in a ton of money for me," says Renaud, "paying for itself in just a few months. But as the size of the jobs we began to bid on kept getting larger and larger, I decided we had to upgrade to the 25-ft. PAC table."
Renaud, like Kerstetter, appreciates the Hypertherm True Bevel and True Hole technology—"Our customers, particularly those in the wastewater industry, love the hole quality we produce," he says. And, he boasts of now being able to work with 8- by 20-ft. plates and avoid weld-splicing smaller sections. "We've eliminated beveling as a secondary process—either manually or automated. And we're saving hundreds of hours of production time while improving accuracy, so that fitup and welding in the field becomes easier for our customers," Renaud adds.
Comparing his new PAC setup to the previous version, Renaud also notes the dramatically decreased piercing time—from 2 sec. per pierce on average before to as little as a few milliseconds now. And plenty of his work requires a considerable amount of piercing.
"One recent job," Renaud shares, "required processing 51 sheets of 8- by 20-ft., 3⁄8-in.-thick steel plate, each with 429 holes. That's a production job we could never have quoted before. We couldn't compete."
What about etching? Here, Renaud tunes down amperage to the machine's 260-A cutting head to 10 A, and etches bend lines onto plate sections to ease downstream operations.
"For example," says Renaud, "we might have to weld 40 gussets to a plate. By plasma-etching the layout right onto the plate, the fitter doesn't even need to use a tape measure to lay out the assembly."
Describing another etching application, Renaud notes the great deal of plate rolling performed at the shop. This work requires prebending the plate ends before inserting it into a rolling machine. "We plasma-etch those bend lines," he says, "which speeds the layout process and minimizes or eliminates any chance for error during layout."
MF
Industry-Related Terms:
CNC
,
Edge
,
Etching
,
Grinding
,
Lines
,
Piercing
,
Plate
,
Run
,
Shearing
,
Stainless Steel
,
Tape
,
Thickness
View Glossary of Metalforming Terms
See also: Hypertherm, Inc.
Technologies: Cutting, Welding and Joining