CNC Plasma-Cutting Machine Comes as a Kit
June 1, 2014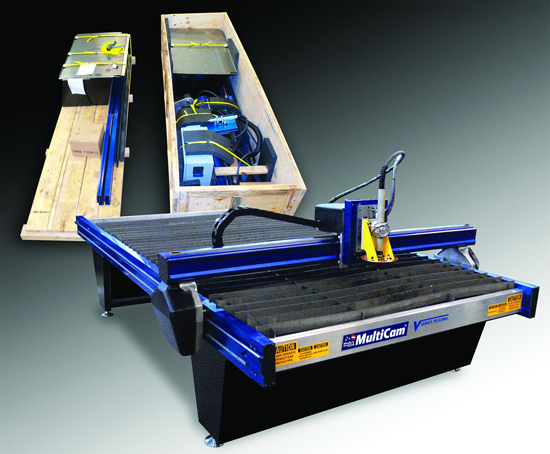 MultiCam Inc., DFW Airport, TX, introduces its V Series CNC plasma-cutting machine, recommended for entry-level as well as experienced manufacturers, and particularly those on a tight budget. Offered as an easy-to-ship kit, the machines reportedly can be assembled and ready to operate in 4 to 6 hr. The included EZ-G code and EZ-Suite application software allows users to quickly convert drawings to machine code. And, V-Series machine support and technical assistance is provided by a local MultiCam Technology Center.
V Series Plasma cutting machines feature a custom-engineered extruded aluminum frame with steel leg supports. They include (as standard equipment) automatic torch-height adjustment, along with powerful dual X-axis drive motors and Hypertherm PowerMax plasma-cutting torches. The easy-to-use handheld operator interface features graphic icons for all machine functions.
MultiCam Inc.: 972/929-4070;
www.multicam.com
See also: MultiCam Inc.
Technologies: Cutting