Bevel Consumables for Hypertherm Air- and Oxygen-Plasma Cutting System
January 25, 2021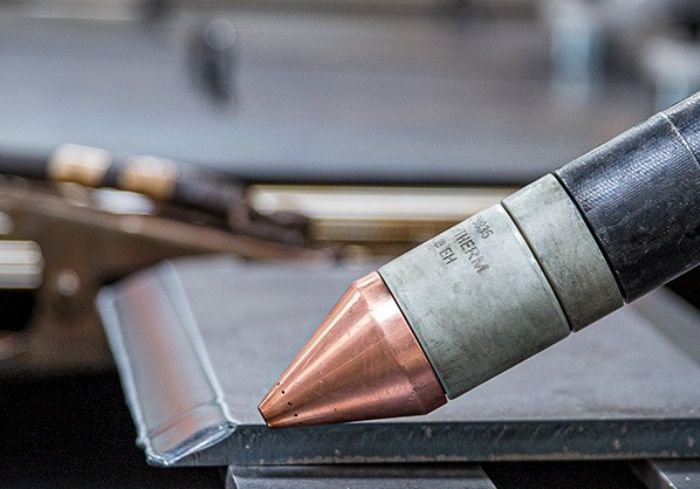 Hypertherm, Inc. now makes available "extreme-bevel" consumables for its MaxPro200 LongLife air- and oxygen-plasma cutting system. The consumables, designed for mechanized, robotic and handheld cutting, feature an aggressive, pointed geometry so that a plasma torch can tilt to an angle of as much as 66.5 deg. This makes the consumables ideal for a range of jobs, including steep mechanized beveling, tube and pipe cutting, structural steel work, pressure-vessel construction, and handheld cutting. In addition, the feature enables operators to see more easily what they are cutting and provides them with better access to beam flanges and areas with limited clearance, resulting in improved cutting and the need for fewer secondary operations.
The extreme-bevel consumables are available for both air and oxygen cutting at 130 and 200 A. MaxPro200 operators can choose to purchase the consumables separately or as part of a starter kit that includes consumables for all of the extreme-bevel cutting processes available for this system.
"The MaxPro200 is a true workhorse for companies demanding great cut quality along with high productivity and low operating costs," says Jorge Santana, a Hypertherm product manager. "Its 100-percent duty cycle combined with 200 A of power and the versatility offered by both hand and mechanized cutting make it a popular system. The addition of these extreme bevel consumables creates new opportunities for users of the system."
See also: Hypertherm, Inc.
Technologies: Cutting