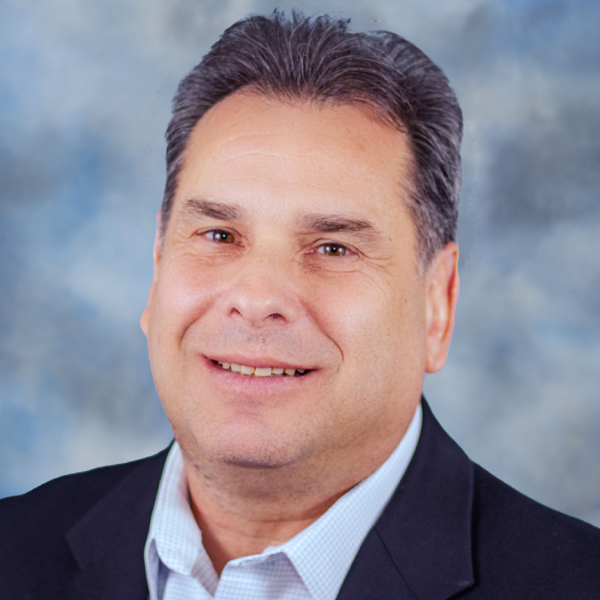 Brad Kuvin
A New Day Dawns for this Wisconsin Heavy-Metal Fabricator
December 1, 2009
A huge workforce-development initiative coinciding with a major facility overhaul has metal fabricator D&S Manufacturing, Black River Falls, WI, focused on increasing the velocity of its operations. "We're adding speed through our plant," says company president Michael Dougherty, "creating new opportunities to further reduce costs in areas such as inventory control, material handling and scrap and rework."
D&S embarked on a mission late in 2006 to reinvent itself from a traditional batch and queue process flow to a flow more suitable to its high-mix low-volume style. "We had no visual triggers, no line-of-sight scenarios," says the firm's director of continuous improvement Frans Carlstrom. Being primarily a custom manufacturer of large-scale parts and assemblies for heavy-metal customers such as Caterpillar, CNH, Oshkosh Corp. and the Trane Co., D&S sought a process to help it prioritize kaizen events, identify waste and provide greater visibility into its value stream of fabrication processes, including laser- and plasma-cutting machines, vertical machining centers, press brakes, and four robotic arc-welding cells. It found the solution by performing value-network mapping (VNM).
What's a Value-Network Map?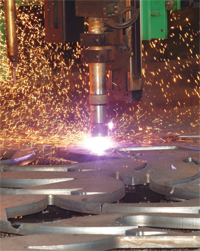 At D&S, improving the flow of materials from its gate work centers—lasers, oxyfuel and plasma-cutting machines—and into its fabrication area of press brakes, machining centers and the like, and eventually on to assembly and
robotic welding cells, has helped the firm eliminate delays and waste in its
material-handling operations.
"We took most of our parts that we process and divided them into three categories—strangers, repeaters and runners," says Carlstom. Strangers run infrequently, maybe once per month; repeaters run two or three times per month; and runners might hit the shop floor weekly, perhaps even daily.
"Dividing the product mix into groups allowed us to put them into process-flow families," says Carlstrom, explaining how a value-network map comes together. "From this we were able to discover a better to organize our machines and redesign our building layout, locating as many of our operations as possible within line of sight. This allows us to then apply additional lean tools that use visual cues to trigger operations. We went from grouping jobs by weeks down to a couple of days to now daily groupings in how we get our materials and other resources."
While many manufacturing companies have studied and implemented the tenets of value-stream mapping (VSM) to help identify and eliminate waste, plenty of high-volume shops are evolving to shorter-run production and taking on a high-mix low-volume model. Shops such as these—including D&S—that exhibit multiple, merging value streams can optimize their operations by using VNM. As described in a paper written several years ago by professors at The Ohio State University, VNM allows a company to map the complete network of flows in the value stream and, according to the paper's authors, "supports facility improvements to merge/streamline multiple flows in the facility, such as the creation of manufacturing cells and improvements in the current material-handling methods."
At D&S, improving the flow of materials from its gate work centers—lasers, oxyfuel and plasma-cutting machines—and into its fabrication area of press brakes, machining centers and the like, and eventually on to assembly and robotic welding cells, has helped the firm eliminate delays and waste in its material-handling operations. Forklift traffic has been reduced by half, aisles are wider and equipment cells are roomier, eliminating hazards. And, all of the firm's performance measures have improved—on-time delivery is up 25 percent, scrap costs have dropped by 25 percent, customer rejects are down by 30 percent, and lead time has dwindled on some parts from two weeks down to five days, and for other parts from six to eight weeks down to just three to four weeks.
"Along with reorganizing our work flow using value-network mapping, a key technology enabler to allowing us to increase speed through the plant has been installation of a finitely constrained scheduling system," says Carlstrom. "We used to schedule backwards with infinite capacity, as many companies still do. This would lead to overloaded work centers."
A Finite Constraining Scheduling System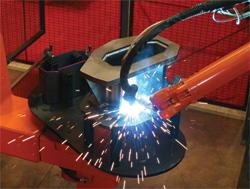 D&S operates four robotic arc-welding cells and recently implemented offline programming to boost productivity from the cells. Thanks to offline programming, the company can justify running work-order quantities as low as 15 through its robotic-welding cells, rather than through its manual welding booths.
Earlier this year, D&S implemented a finitely constrained scheduling system based on new ERP software from Epicor called Vantage. The software allows the firm to identify constrained work centers and put limits within the scheduling software to balance production flow.
"Before, we had a series of moves and queues and built-in delays to some of the processes, because the work centers were overloaded and we needed a cushion to meet our customer dates," Carlstrom says. "Now, with balance to our flow, we have taken those moves and queues, which at times would be two or three days long, down to just one day, or less in some cases. As a result, our lead times on some work have been cut in half since we've eliminated the schedule delays we used to have to plan on because we were not finitely controlling our constrained work centers."
D&S's new ERP software relies on up-to-the-minute production data coming from the shop floor, thanks to implementation of plant-wide bar-code scanning to track labor content, control work flow and manage work in process.
"Gone is the old philosophy that if I don't get it done today I can do it tomorrow," says Carlstrom. "We have a much more disciplined and committed approach to getting the work done according to schedule. So where we once maintained a warehouse to store component parts in 40 different rack locations, inventory storage now takes up just 10 racks."
Supplier of the Year
D&S credits its streamlined workflow and improved scheduling system with helping it earn supplier-of-the-year status from one of its customers, Parkson Corp., a Ft. Lauderdale, FL, supplier of components and systems for water treatment. And, the firm recently was deemed eligible for a $250,000 state income-tax credit through the Western Wisconsin Technology Zone.
"We'll be able to use the credit to reduce our state income tax," says D&S chief financial officer Tony Ptacek, "earning credits through our capital investments and job-creation and job-retention efforts."
Among those efforts was implementation of offline programming for its robotic-welding cells, which MetalForming covered in a feature article published in the February 2009 issue. MF
See also: Epicor Software Corp., D & S Manufacturing Co. Inc.
Technologies: Bending, Cutting, Management