Power-Packed Laser Fuels Contract Fabricators Growth
February 1, 2010
It's a nice problem to have, when combined vertical and horizontal growth from new and expanding markets leaves a manufacturer wondering how to increase metal-fabricating capacity from its existing shop-floor space. Faced with just this opportunity (and challenge), irrigation-systems manufacturer Lindsay Corp., near Omaha, NE, found the solution with a new higher-capacity laser-cutting system (a model CL-850 from Cincinnati Inc.) combined with a dual-pallet work changer.
Lately, while continuing to develop and manufacture irrigation-system equipment as its bread and butter, Lindsay has expanded into new markets to leverage its array of manufacturing capabilities, particularly among agricultural and construction-equipment companies. One such relationship led the firm, in 2006, to acquire Barrier Systems, Inc., a manufacturer of moveable safety barriers for high-traffic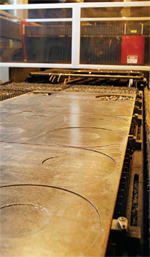 The new 5000-W dual-pallet laser-
cutting machine at Lindsay Corp. has doubled productivity compared to the firm's previous laser-cutting machine, and processes primarily mild steel to ¼ in. thick. The machine features two 6- x 12-ft. pallets and pallet change take just seconds, enabling nearly nonstop cutting.
Faced with accelerated growth from its expanding business lines, Lindsay engineers recognized the need to significantly increase throughput and the efficiency and flexibility offered of its sheet- and plate-fabrication department. The company processes steel from 20 gauge to 0.75 in., while the CL-850 (5000-W) is rated for mild steel to 11⁄8 in.
"The new laser-cutting center provided just the increase in speed and thickness range we needed to accommodate the growth we were experiencing," says manufacturing engineer Jim Belzer. "The laser doubled productivity compared to our previous machine and allows us to cut plate to ¾ in. (compared to ½ in. before) and process plate that we used to plasma cut.
"The laser is much faster than plasma cutting, plus it gives us superior edge quality," Belzer adds. Plasma-cut plate typically requires post-process deburring or machining, adding throughput time, labor cost and more complex work scheduling. Meanwhile, the laser system's cutting head features AutoFocus lenses of 5-, 7.5- and 10-in. focal length. The lenses allow the focus points to be instantly adjusted between piercing and cutting, for optimal processing.