Part-Separation and Stacking Automation for Sheet Nests
May 7, 2020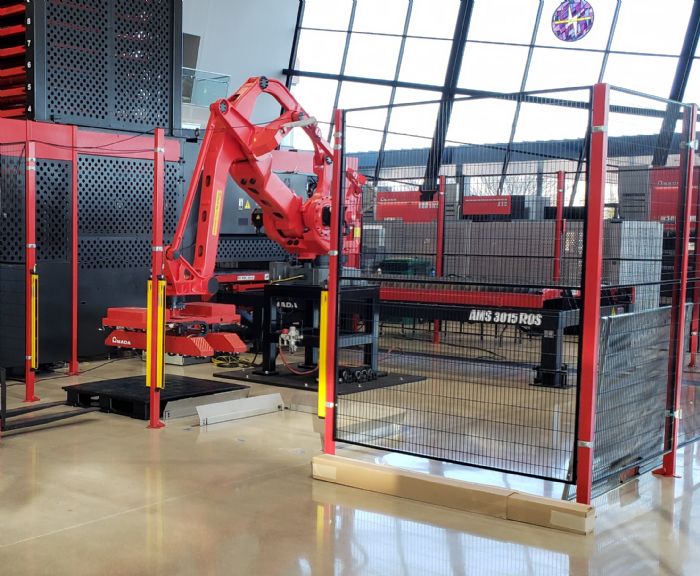 Amada America provides two types of part-separation and stacking automation for laser- and CNC punching-machine sheet nests: the PSR (Part Sorting Robot-pictured) and TK (TaKeout) systems.
"For larger laser-machine offerings, the PSR3015 system removes the entire sheet from the laser, with the laser continuing to cut the next sheet," says Phil Picardat, the company's product manager for automation. "The part-sorting robot grabs individual parts out of the skeleton and stacks them onto a pallet."
Analysis provided by Amada helps verify the percentage of parts able to be separated and removed from the sheet skeleton consistently, as well as the percentage possibly requiring removal with the skeleton.
The company provides TK (and PR, or Part Removal) systems for its solid-table machines, including CNC punching and combination units. This automation removes parts from the skeleton as soon as they are cut free, then stacks them in precise orientation on a pallet in the automation area. With part removal and stacking completed, the system transfers the skeleton to a separate pallet for disposal.
"With the PSR3015 and TK3015 systems," says Picardat, "the robots grab individual cut parts and stack them precisely on the pallet―ready for transport to press brakes or any other process. This eliminates labor-intensive part removal and destacking, a difficult job that experiences high labor turnover. People really don't like busting out parts for 8 hr./day."
See also: Amada North America, Inc
Technologies: Cutting