On-the-Fly Laser Drilling of Linear and Cylindrical Patterns
January 1, 2018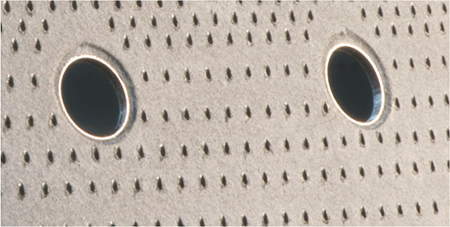 Prima Power Laserdyne, Champlin, MN, has introduced SmartPerf, a tool for programming and laser drilling of simple to complex hole patterns in linear and cylindrical paths in 2D and 3D parts. SmartPerf ensures high-quality holes, in terms of metallurgy and geometry, according to company officials, with the benefit of a rapid cycle time for on-the-fly laser drilling. High productivity is accomplished by eliminating the need for acceleration and deceleration at each hole location as is common in standard percussion laser drilling.
SmartPerf is a proven process for percussion drilling small-diameter (0.2 to 0.6-mm) holes in turbine-engine combustors. All Prima Power Laserdyne Nd:YAG and fiber-laser systems can drill these holes at steep angles and in difficult-to-machine materials. Thousands of holes can be produced quickly over a 3D surface in a single setup. SmartPerf also is used for producing hole patterns involving both trepanning in addition to on-the-fly drilling.
Complex patterns involving non-uniform hole spacing and varying hole size reportedly are easily produced. Common applications involve drilling a pattern around a pre-existing machined feature (photo) and creating custom spray patterns based on an array of non-uniformly spaced, sized and shaped holes.
Quality is enhanced due to reduced heat applied to the workpiece. This is especially important when laser drilling thermal-barrier and other coated high-temperature alloys.
Prima PowerLaserdyne: www.primapowerlaserdyne.com
See also: Prima Power Laserdyne, LLC
Technologies: Cutting