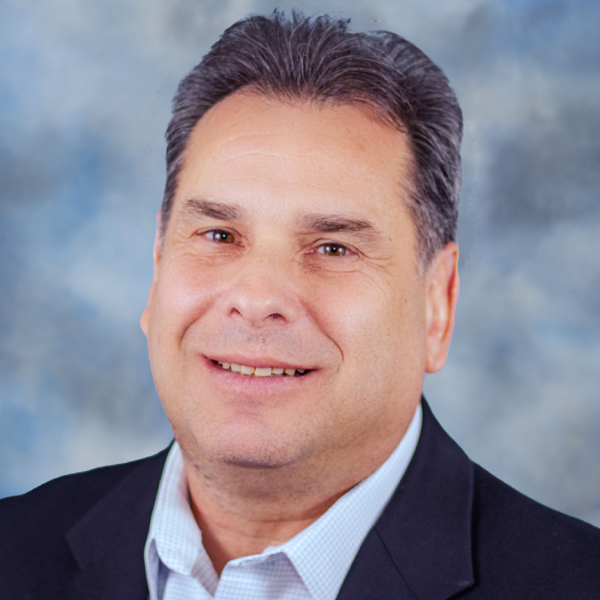 Brad Kuvin
New Nesting Software Nets Quick ROI
April 1, 2012
Value-added work is picking up at metal-service center Tampa Bay Steel. In the last year alone, the company has installed two new Haas CNC vertical mills, its third Trumpf laser-cutting machine, and its first waterjet-cutting machine. The new machines join five plasma-cutting tables and an oxyfuel-cutting table at the 200,000-sq.-ft. service center, which ships out an average of 300,000 lb./day of metal-alloy sheet, plate, structurals, tube and pipe.
While most of the work coming out of Tampa Bay Steel is of carbon steel, the firm has carved a substantial niche supplying Type 904L stainless steel, which it ships all over the country—even taking in orders over the Internet. Applications for the high-nickel austenitic alloy, originally developed for its resistance to sulphuric acid, abound in the marine industry due to its ability to resist corrosion in warm sea water and other high-chloride environments.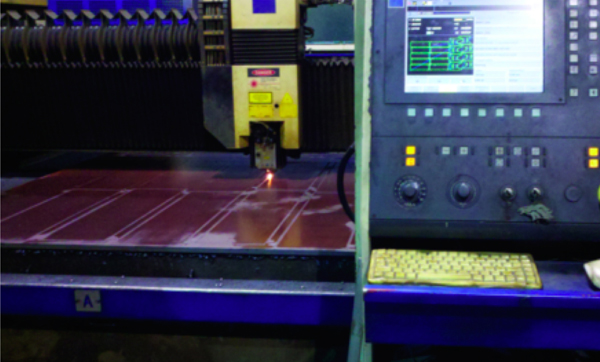 Prior to installing SigmaNest, if Tampa Bay Steel needed to laser-cut a part that originally had been programmed for plasma cutting, a programmer would have to reengineer the nest. That not only added time to the job, but meant that the firm had to store multiple cutting programs for the same part. Shown here is one of the firm's three Trumpf laser-cutting machines; note the sheet nest displayed on the operator terminal.

During an average day, Tampa Bay Steel fills some 200 separate orders, its 13 trucks making as many as 140 stops throughout Florida and South Georgia. Its diverse set of customers orders parts in quantities from one to 1000 or more, so managing material flow and sheet and plate utilization is a must. That task became exponentially more difficult as the company continued to add machines to its stable, to the point where engineering manager David Carpenter finally decided to seek a software solution that would allow him and his department of programmers to program every cutting machine from one piece of software.

"I had five different programming packages on my computer to cover all of the machines we run," says Carpenter. "Every time we added a new machine, we had to learn a new programming routine."

One Ultimately Flexible Program

Early in 2011, Carpenter began to evaluate software options that would allow him and his team the ability, with one program, to nest and program every piece of cutting equipment in the shop, regardless of brand. In mid-2011, Tampa Bay Steel installed SigmaNest CAD/CAM nesting software from SigmaTek Systems, Cincinnati, OH—three seats just for quoting and nesting, and four fully functional seats for quoting, nesting and for posting programs to the shop floor.

In addition to enjoying the benefits of only having to learn and use one piece of software to program all of the company's cutting machines, Carpenter also highlights how simple it is to import SolidWorks part files into his new nesting software.

"While other software packages also offer this feature," he says, "SigmaNest seems to do it better, with just a couple of clicks." This feature proves particularly important when the shop decides to cut a part originally programmed to run on one type of machine (a plasma-cutting machine, for example) and, perhaps for scheduling or capacity reasons, decides to cut the part on another machine (say a laser). Carpenter explains.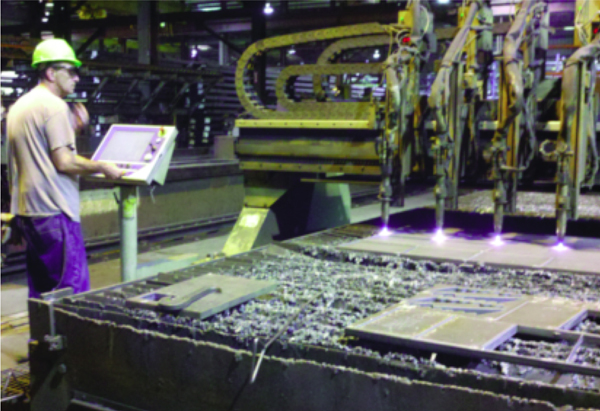 Carpenter particularly appreciates a new multi-torch optimization module introduced by SigmaTek early in 2011. The module, designed specifically for steel service centers or job shops using multi-torch machinery (such as the oxyfuel-cutting machine shown here working at Tampa Bay Steel), balances the conflicting desires of getting the most efficient use of material and fastest multi-torch machine cutting path, according to SigmaTek literature.

"Prior to installing SigmaNest, if we needed to laser-cut a part that originally had been programmed for plasma cutting, I'd have to reengineer the nest. That not only added time to the job, but meant that we had to store multiple cutting programs for the same part, which created file-management problems if part designs changed. We'd have to be sure we updated every cutting program."

Now, Carpenter can simply update the single SolidWorks file for a part, and when he brings it into SigmaNest he can automatically develop the optimum cutting program for the machine he expects to use for cutting. Each machine—laser, plasma, waterjet and oxyfuel—has its own set of variables contained within SigmaNest that affect how parts are to be nested, accounting for differences in kerf, cutting speed, and cornering parameters such as speed and acceleration.