Fiber Laser Stakes Out Entry-Level Position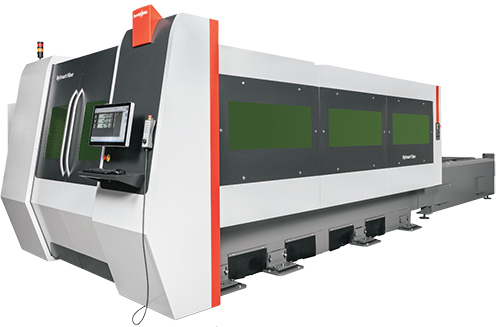 Bystronic touts its new BySmart Fiber 3015 compact fiber-laser cutting machine as ideal for first-time budget-minded users. The BySmart Fiber, equipped with a 2- or -3-kW laser, can process a wide range of materials and thicknesses, including mild and stainless steels, aluminum alloys and other nonferrous materials such as copper alloys and brass.
Operators control the cutting process on the BySmart Fiber using a 22-in. touchscreen to drive the firm's ByVision user interface. It directs the manufacturing process with just a few swipes of the finger. ByVision accesses a cutting-parameter database based on material type, creating the optimum cutting process that accounts for material thickness and part geometry. During cutting, ByVision monitors the process and provides critical data on-screen, providing an overview of the cutting plan, cutting-head position and machine status.
Compact Side-Loading Fiber Laser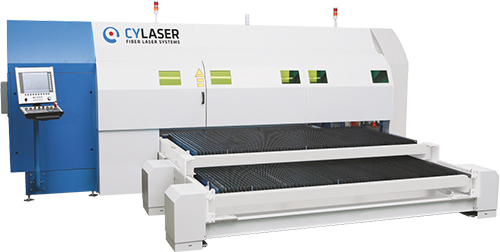 CY Laser America exhibited a unique side-loaded, compact fiber-laser plate-cutting machine, Model CY2D 4020S, designed, say company officials, for easy integration with material-handling automation. On the show floor was a machine fitted with a 72 by 144-in. dual worktable with integral hydraulic pallet changer, delivering a compact footprint (276 by 260 in.) when compared to the typical end-loading machine setups. The side-loaded configuration allows the table exit to be located on either the front or back of the machine as required to optimize material flow. Operators can access the table through sliding doors, eliminating the need to shuttle the table in and out for part inspection or other tasks.
With a standard 4-kW generator, CY officials note that the machine will cut 1-in. mild steel, 5⁄8-in. stainless steel and aluminum, and 5⁄16-in. brass sheet. A 6-kW upgrade is an option. Lastly, all electromechanical components of the new model are available domestically, adding to long-term reliability and maximum uptime.
Optimized Piercing Promotes Productivity Gains
Prima's new Laser Genius fiber-laser cutting machine features linear motors that it says allows increased productivity by as much as 15 percent compared to traditional systems. And, thanks to optimized piercing routines, fabricators can experience significantly improved cycle times. Three new pierce profiles specifically address three different applications—thin-sheet (to 5 mm) cutting, thick-sheet (5 to 25 mm in mild steel) cutting, and unattended or lights-out cutting.
For piercing thin sheet, Prima offers the Smart Cut mode. Here, the laser head need not pause when transitioning between piercing and cutting. It's one smooth process that can yield as much as a 30-percent cycle-time reduction compared to traditional piercing. For thicker sheet, fabricators will opt for the Max Cut pierce mode, featuring a hefty flow of nitrogen delivered to the workpiece material. This cooling effect reduces what can be a pierce time of 3-4 sec. down to less than 1 sec. And, for unattended cutting, Prima offers the Night Cut piercing mode, featuring a wide parameter window to ensure reliable and safe pierces.
Solid-State Cutting with 8-kW Engine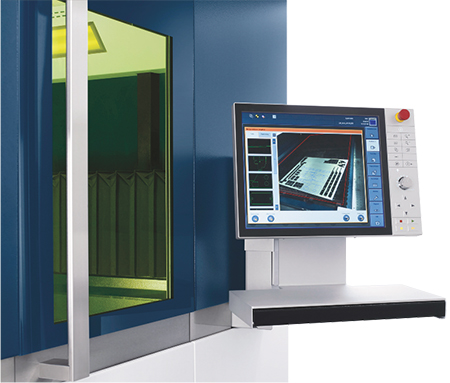 Trumpf debuted its 8-kW TruDisk laser, driving its TruLaser 5030 cutting machine, designed to significantly boost productivity when cutting medium to thick sheetmetal. The TruLaser 5030 fiber was shown equipped with Trumpf's CoolLine, BrightLine and enhanced PierceLine functions, to support processing thicker materials.
During cutting, the CoolLine nozzle directs a water mist around the laser beam as it reaches the workpiece. This reduces the heat transferred in the immediate cutting zone and achieves contours—small sidewalls and difficult geometries—that would otherwise be difficult or impossible to process. BrightLine nozzle technology accelerates the cutting gas to a high velocity and features special cutting data to allow fabricators to laser-cut stainless steel as thick as 0.8 in. And, the new PierceLine function regulates the piercing process to provide just the right amount of laser power for as short a time as needed, so that average power always stays just below the limit at which the material would burn off uncontrollably. The result, say company officials, is precisely pierced holes with a minimum amount of ejected material.
Select from Three Cutting Modes, Balancing Quality, Cost and Speed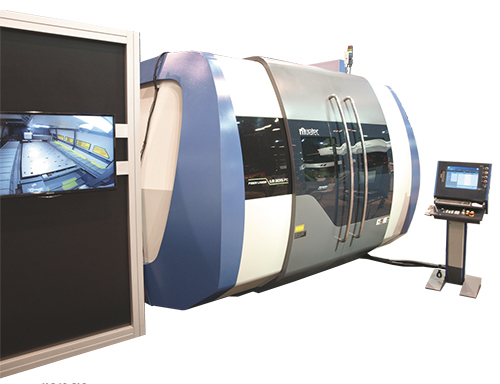 Murata Machinery introduced its LS3015FC fiber-laser cutting machine, which allows users to select among three cutting modes: high quality, for the best possible cut; economy, which reduces gas consumption and operational costs; and high-speed, for the fastest production time. The machine features linear drives on all axes for precise, high-speed processing. A dual-pallet system preps new material and eliminates parts and scrap from falling onto the material during exchange.
The Muratec MVHS proprietary control system adjusts to changes in the laser's output within milliseconds. Included is a light-monitoring system that helps to prevent reflected light from damaging the laser, and continuous monitoring of processing parameters outside of the normal range. When detecting abnormal cutting parameters, the machine will stop processing to avoid damage or wasted material.
MF
Industry-Related Terms:
Alloys
,
Bed
,
Brass
,
CNC
,
Edge
,
Hardware
,
LASER
,
Model
,
Nesting
,
Pallet
,
Piercing
,
Prototype
,
Punch Press
,
Scrap
,
Stainless Steel
,
Thickness
,
Turret
View Glossary of Metalforming Terms
See also: Hypertherm, Inc., Prima Power North America, Inc., TRUMPF Inc., Mazak Optonics Corporation, Muratec Murata Machinery USA, Inc.
Technologies: Cutting, Management